Krungsri Bank Western Union has launched its newest promotion for Filipinos who are sending money to the Philippines. The 100-baht Lotus vouchers given to first time users will now be 200 baht when at least five people register together in a group.
The promotion runs from September 28 to December 15, 2016.
This is helpful if you have many friends who are already using Krungsri Bank. All you have to do is register online at www.krungsrionline.com and then fill up the Western Union online/ATM application form. Once you have successfully registered, you just need to wait for one to three days for it to be fully activated.
If you don't have a Krungsri Bank account yet, you may contact or call the bank's Filipino marketing partner, Jezreel Llanera, for assistance. You may also join Western Union Online by Krungsri Facebook group or check www.pinoythaiyo.com for updates.
Here's how to join the Krungsri Bank Western Union Group Registration Promo.
 Register with www.krungsrionline.com

 Fill up Western Union Krungsri online application form

 Find at least FOUR other friends (or more) to do the same

 Send money using Western Union Krungsri online or via ATM

 Every member of the group gets 200 baht worth of Tesco voucher after everyone's first-time transactions

 Send names via email to

Krungsri.WU@krungsri.com

and CC to

pinoythaiyo@gmail.com

 You will get the vouchers within 30 days after the end of the promotion
This is a convenient and hassle-free way of sending money to your loved-ones in the Philippines. You don't need to line up in a long queue in any money transfer location because everything can be done at the tip of your fingers.
REGISTER NOW!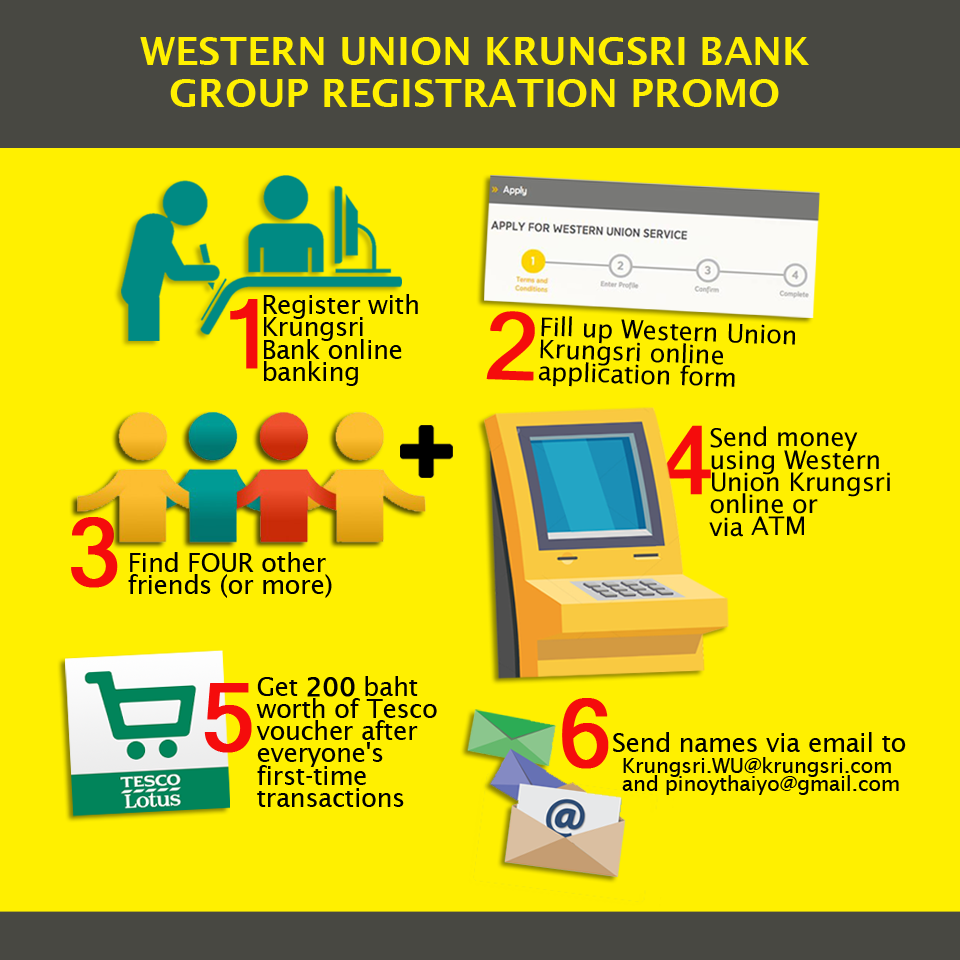 NOTE FOR GROUP REGISTRATION: After your group has successfully registered, send the namelist with the customers' complete names and passport number to Krungsri.WU@krungsri.com or jezreel.llanera@gmail.com to get your 200 Baht Lotus voucher after the group's first time transaction.
NOTE FOR INDIVIDUAL REGISTRATION: After you have successfully registered, you may send your complete name and address to Krungsri.WU@krungsri.com or jezreel.llanera@gmail.com to get your 100 Baht Lotus voucher and other freebies.