Memory House Cafe in Samphran has a huge space for taking endless photos for memories to be cherished forever. There are colorful and beautiful backdrops and sets for everyone.
The spacious green lawn enjoyed by previous guests is now replaced with colorful installations perfect for social media posts.
Every corner is an opportunity to smile and press the shutter. They have arranged many appealing spots waiting for you to pose alone or with friends.
With a creative mind and some helpful friends, one can make and finish a story of photos or videos in a moment.
The best and most convenient way to go there is by car: a rented taxi, private car or van. You need the GPS as the car will have to traverse several roads with signages that are with fewer English words. I couldn't imagine myself going there via public ride. In fact, I don't remember seeing a taxi, tuk-tuk, nor songthaew once we took the sub roads. Parking is also spacious and must be sufficient for the guests in a day.
In spite of this, Memory House Cafe is always full of guests, mostly locals. The place is huge and there is enough space and corners for everyone. You do not need to queue for a long time to take photos in one spot. With the many beautiful corners in the place, everyone must be busy with their cameras.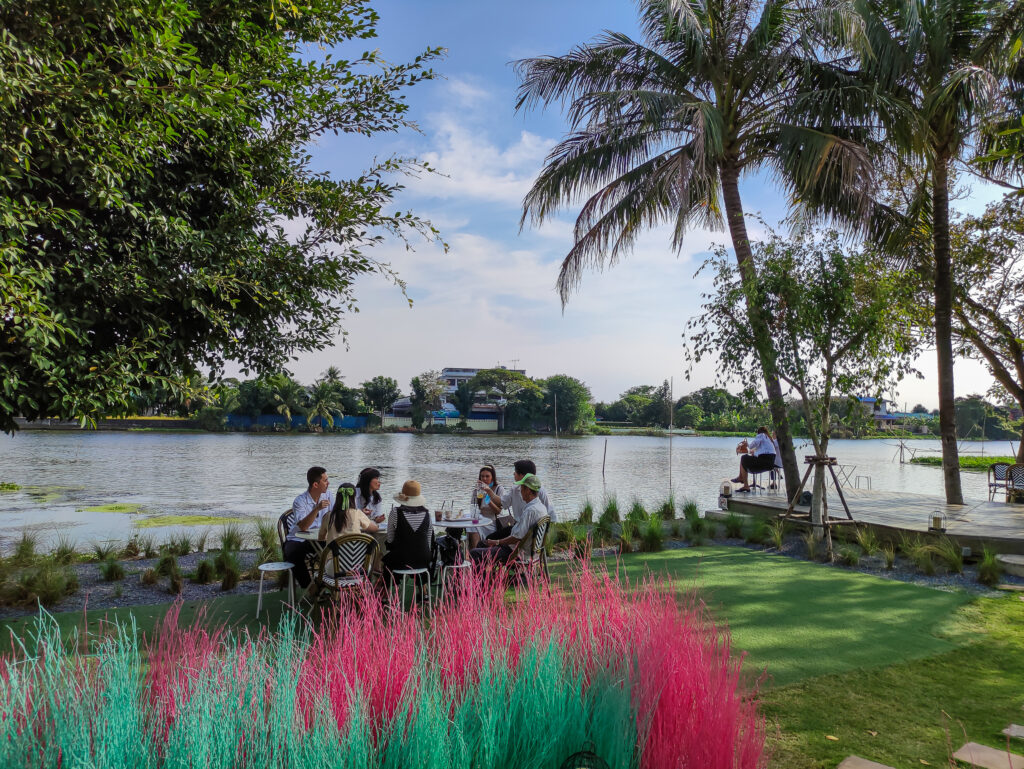 If you prefer to be quiet and meditate for a while, relaxing while your friends are occupied with their cameras, you can take a seat near the river and enjoy the breeze and calmness the place offers while sipping your favorite tea.
You need to pay a ticket worth 50 baht as you enter, which you can also use as money when you buy food or drinks inside. So if the drinks you want are worth 100 baht, you can hand in the cash of 50 baht plus the entrance ticket you have, that's how it works.
The food is delicious and with lots of variety, but a little bit costly. But considering the grandeur picturesque that you can enjoy inside for your selfies and Instagram, the overall spending is worth it.
If you want a quick trip outside Bangkok and spend the day with friends for endless photos, Memory House Cafe could be one of your best choices.
Memory House Cafe, Sam Phran
Address: 49/3 หมู่ 1 Sam Phran, Nakhon Pathom, Thailand 73110
Opening hours: 9am-7pm
Contact: 083 925 0900
Facebook: facebook.com/MemorySamphran/
[mashshare]