Two Filipino musicians who have been living in Thailand since 1980s have been stricken with poor health and growing financial crisis. And yes, they need help!
Netizens from Filipino community FB pages have been sharing a post on Facebook from Ariel Abrenica and Edilberto Lucerna Asuncion appealing for help for an elderly couple who wanted to go back home in the Philippines but couldn't due to money and visa problems.
"In behalf of Filipino musicians dito sa Koh Chang, Thailand, may gusto po sana kaming tulungan na mag asawa dito na matanda na po gusto na po nila umuwi ng pinas pero hndi pa mkauwi ng pilipinas kc overstay po," said Abrenica in his post.
Mr. Floro and Mrs. Liza Tizon, 65 and 57 respectively are both musicians who used to sing in bars and restaurants on the island of Koh Chang in Trat Province. The couple have been living in the kingdom for about 30 years. They hail from Samar Province in Central Philippines.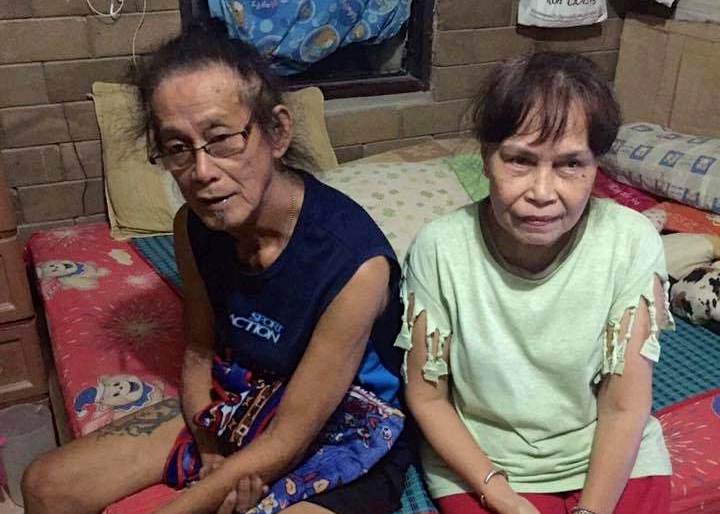 According to the post, the couple have been overstayed for two years after their passports got burned and they lost their jobs. They now only  rely on food contributions from their friends in order to survive. They haven't been able to pay  their house rent as well. The couple have neither relatives in the country.
Aside from looming financial difficulty in recent years, the Tizons have also long been suffering from health problems. Tatay Floro can no longer stand. He has numbness on his right leg and left arm as a result of a stroke he suffered.
Tatay Floro was taken to the hospital by fellow Filipinos, an update on Facebook by Asuncion said on November 10 where Tizon had a CT scan. The money contributed by the Filipino community was used to pay the hospital bills and support their daily expenses.
"Update lang po and Good afternoon po sainyong lahat and salamat po ulit sa mga nag share ng post ko regarding Kay Tay Floro at Nay Liza Tizon. As of now po we are here at the hospital para po sa check-up ni tatay Floro and he will be needing a body CT scan and hindi po namin alam kung magkano aabutin so I'm hoping po na sana matulungan po natin sila lalo na po ngayon para po sa mga expenses na kakailanganin nila," said Asuncion in his post.
Asuncion also notified the Philippine Embassy in Bangkok about the couple. He was told at least 60,000 baht is needed to repatriate the Tizons. This include the penalty of 20,000 each for their overstay, about 2,000 baht for travel document expenses and the rest will be for their one-way tickets.
An embassy official will assist them at the airport.
To help Tatay Floro and Nanay Liza, you may call them directly at 0914489034. You can also send your donations directly to them through the bank account below.
Bank: Kasikorn Bank
Swift Code: KASITHBK
Account number: 5512003313
Account name: Liza Tizon
Mobile: +66914489034