Will the phrase 'last fight' by the world's undefeated best ever boxer sell? The answer for the case of Mayweather-Berto fight is a "no". Many seem not interested.
There are roughly 2,000 more seats still available for Floyd Mayweather match with Andre Berto this coming September 12, 2015. This figure is even higher if one will count the tickets given to the promoters.
Mayweather has said that the fight will be the last of his 19-year career. In his words – "I'm ready to get back in the ring on September 12 and prove again to the whole world why I'm the best ever." Floyd continued, "I always bring my A-game, and this fight against Andre Berto is no exception. He's a young, strong fighter who is hungry to take down the best. Forty-eight have tried before, and on September 12, I'm going to make it 49."
On the other hand, Berto has fought in 30 matches and won 23 by knockouts, but he has lost three times. He is also a world welterweight titleholder for two times, and is currently holds an interim. He is viewed as the underdog in this match with Floyd, but he plans to end Mayweather's undefeated status.
"I'm coming to kick Floyd's ass on September 12. Best believe that I plan to bring it to Floyd and I'm not concerned about what 48 other fighters have been unable to do. Somebody is getting knocked out, and it won't be me. You don't want to miss this.", Berto asserted.
There are two main reasons why this match aren't selling: first, Floyd's opponent lost three of its last five fights; second, many perceived it as an arranged fight to make Floyd's record a 50-0, beating the highly regarded Rocky Marciano's 49-0 undefeated record.
Starhub reported that as of 10am ET Tuesday there are only 25 seats sold for more than $1,000, and the average ticket price is only $799.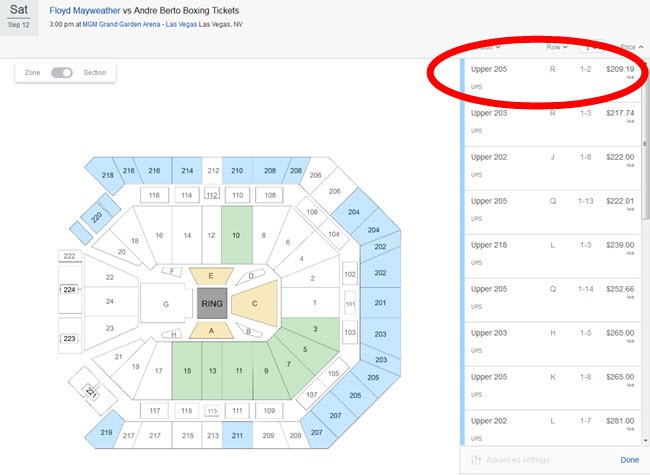 This is a huge opposite scenario with what happened to Mayweather's fight with Manny Pacquiao several months ago dubbed as the Fight of the Century. Back then the average ticket price is $5,095.
With few more days left for the Mayweather-Berto match, unsold tickets are still available in the TicketMaster and the lowest price is $125.
Perhaps a fight between Floyd Mayweather and Ronda Rousey will be even more interesting. What do you think?
Sources: uproxx.com, hfmagazineonline.com