The Philippine Embassy in Bangkok, through its Gender and Development (GAD) arm, invites the Filipino community in Thailand to join "Migration: Rights and Responsibilities of Male and Females Overseas Workers", a seminar that tackles on foreign workers' rights and responsibilities, its challenges and how to respond to these challenges and more. This will be on December 19, 6:30 to 8:30pm, at the Philippine Embassy, Bangkok, Thailand.
The talk will be conducted by speakers from the International Organization for Migration (IOM).
Registration starts at 5:30 and dinner will also be served at 6:00pm.
If you wish to attend, please email your contact details, which includes your full name (which will be reflected on your certificate of participation), mobile number (where you can be contacted), and name of company (if employed). Send these details to bkkpe.gad@gmail.com and please remember, first come, first served basis is observed. Relatives and dependents (15 years old and above) are also welcome to join.
For other details, please forward all communications to the same email address mentioned above.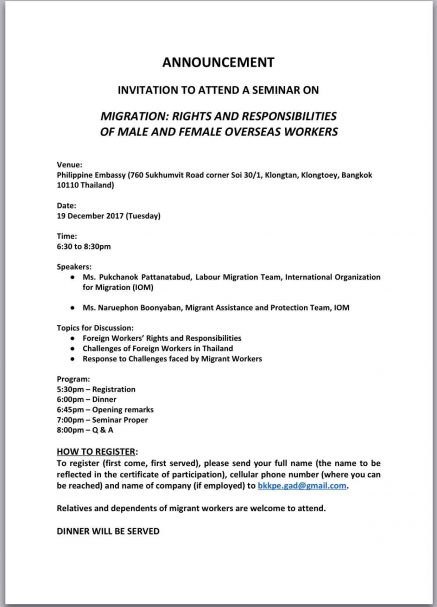 Photo: File