Only about 100 kilometers west of Bangkok, Ratchaburi province in the central region is an ancient city of the Dvaravati period (9th-11th centuries). It shares a border with Myanmar and is rich in natural attractions.
The water jar is a product that has made a name for Ratchaburi. The famous pieces of earthenware from this province are believed to be of the best quality in Thailand. They are decorated with such designs as the majestic dragon, beautiful flowers, or climbing plants. The most popular design is the pattern of the majestic dragon. The dragon water jar is recognized as a symbol of Ratchaburi province. The water jars of Ratchaburi are produced not only for domestic use but also for export.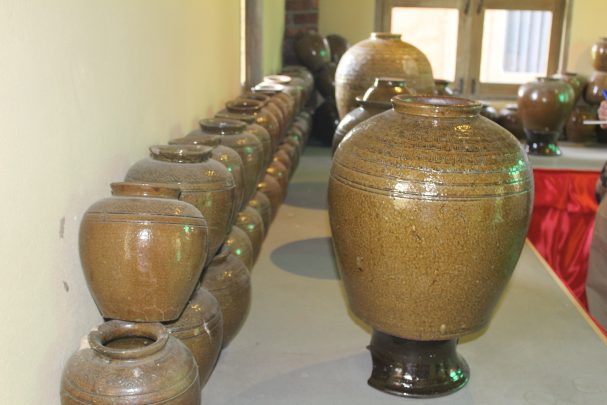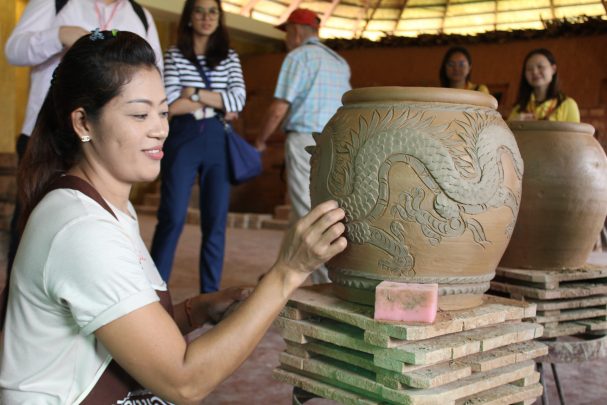 Ratchaburi features a number of opportunities to learn about Thai culture. It is internationally famous for a floating market, situated in Damnoen Saduak district. This floating market is a place where people who live on or near the water bring their produce for sale in boats. It has become one of the Thailand's symbols of tourism.
The province is also famous for pha sin tin chok (a tube skirt woven with a special hem piece attached, the tin, which is woven in the discontinuous supplementary weft technique, chok). Pha sin tin chok reflects the cultural identity of the Thai Yuan ethnic group, which migrated from northern Thailand to Ratchaburi, mainly in Khu Bua and Don Rae subdistricts in Mueang district.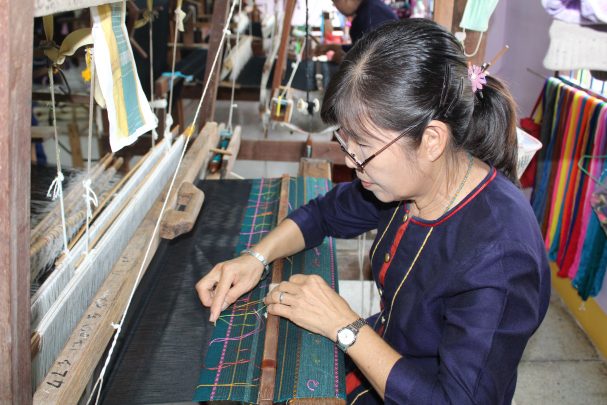 Ratchaburi Fish Village is attractive to visitors to the province, where numerous species of fancy fish and pets are available. Located in Ban Pong district, the fish village has become the largest fancy fish market in ASEAN. The Ministry of Commerce has developed this village as a central fancy fish market to promote sales of fancy fish to both local and international markets. This market has been operating for three years now.
Ratchaburi has set a vision to become a green agricultural hub, an eco-tourist site, and a creative city. It is one of the 12 provinces in the new campaign "12 Hidden Gems Plus," launching ed by the Tourism Authority of Thailand to promote tourism in fascinating provinces in all regions of the country for the year 2018. The campaign was first introduced in 2015, featuring 12 provinces that offer countless attractions for visitors to explore and discover.
The 12 provinces include Lampang, Phetchabun, and Nan in the North; Buri Ram and Loei in the Northeast; Samut Songkhram and Ratchaburi in the central region; Trat and Chanthaburi in the East; and Trang, Chumphon, and Nakhon Si Thammarat in the South.
The new campaign was launched under the concept of "less volume, more value," with an emphasis on unique Thai local experiences. Although Ratchaburi is a secondary tourist destination, it offers distinctive traditions and cultural attractions visitors have come to expect, as well as sites of historical importance and abundant natural resources.
Featured photo: Tayland Haber – Asean News