Here is the success story of Andrew de Jesus, a Filipino businessman in Thailand who started a furniture business in Chonburi, Thailand. Launched in 2018, PJ Chonburi Parawood's wooden home products are now present in over 20 countries and in more than 20,000 physical stores. Now kabayan Andrew also seeks to help his fellow kababayan in Thailand by employing Filipino workers in his company. Application details at the end of the article.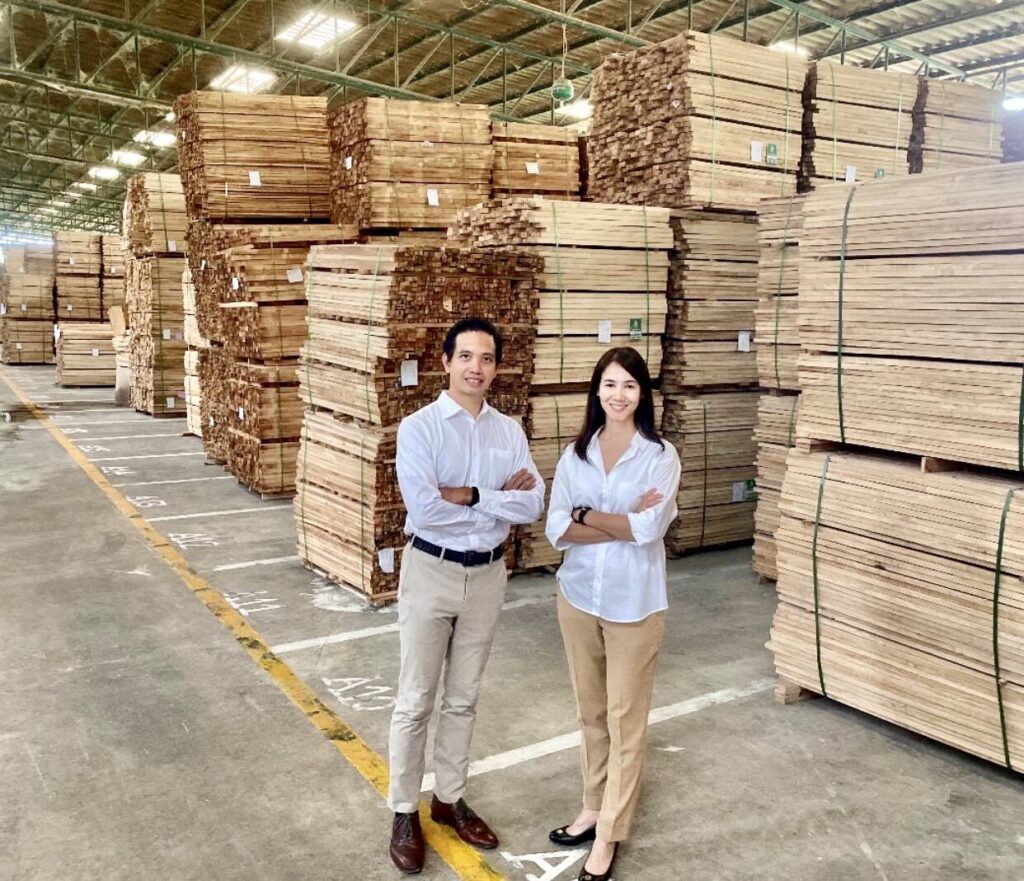 In just nine years, a Filipino, Andrew de Jesus, has carved a name for a Thai furniture and wood factory that supplies its products to Walmart, Sainsbury and Amazon, among others, and is now preparing an acquisition in Myanmar as a manufacturing hub for the Eurozone.
That factory, PJ Chonburi Parawood Co. Ltd., which he set up with his Thai wife, Mrs. Busaykorn de Jesus, is now reaping the benefits of investing in e-commerce in 2018 and focused strategy on selling to omni-channel partners.
PJ Chonburi Parawood's wooden home products are now present in over 20 countries and in more than 20,000 physical stores and its immense success could be attributed to an earlier mindset that Andrew set for the company: "focus on sustainability and ethics, produce products that are of high value based on the price and quality relationship, and expand global distribution."
In a wide-ranging interview with The Financial District (TFD) Andrew revealed that he and his wife concentrated their attention on setting up the standards, creating an internal management system, and expanding the customer base with all major global retailers in the first four years after acquiring one factory from his wife's family.
For one steeped on strategy, Andrew has envisioned a way forward for PJ Chonburi Parawood and that is why he has already devised a plan for the company's acquisition from a Japanese multinational that would expand their product offering.
Pretty soon, the wooden home products that the company sells will have construction materials such as wooden stairs in its portfolio as the two acquisitions in Myanmar, one in Moe Mya Chai last year and Mawlamyie Mon state from a Japanese giant that are into this business.
Andrew is ecstatic about the Myanmar acquisition as he sees it as "future location for labor-intensive process and manufacturing hub for the Eurozone market." And he is prepared to make it succeed the way he had to surmount various challenges in his nine-year stewardship of the company.
"Being in business, there are always ups and downs," he said. And he is prepared for "constant challenges" that made him wiser: hiring the wrong person, sudden increase in raw material prices due to Chinese demand, making wrong decisions, and even exchange rate volatility.
And in the challenges that Covid-19 pandemic has wrought on a global scale, Andrew revealed a soft spot for the affected workers, no doubt due to his upbringing reinforced by a stint in La Salle Green Hills in his high school days.
"Our focus was the safety of everyone," in the first stage of the pandemic, Andrew said. "In Thailand, we were fortunate not to stop operations. However, we needed to change and add several safety protocols, such as providing door to door transportation for our team members and making sure there's more than 7 days of food to cover our workers who live in our company dormitories.
"In Myanmar, the factory had to close down for more than a month and we needed to provide financial support to all staff and workers, otherwise they would have completely no means of livelihood."
Although he has made a name for himself in Thailand for the success of PJ Chonburi Parawood, Andrew, who is a graduate of the University of the Philippines with a Public Administration degree, believes in marketing the Philippines' potential.
He does this at every opportunity like when he attends business meetings. "Every time there is a chance to promote the Philippines as a place of business, I would gladly do so," he said. In fact, he sometimes brings Thai businessmen to the country to "understand the Philippines and see potential opportunities."
Andrew had been exposed to the business world at an early age. When he was seven, his parents would ask him to accompany his grandmother who then operated a supermarket in Bacolod City. There his grandmother would ask him to stock the shelves.
And in his elementary and high school years in La Salle Green Hills, his summers were spent being in the production line in a stuff factory that his parents owned. "Thinking back, given the childhood that (I) had my own personal goal was just to own a business—the only thing that changed since I was a kid to adolescence was the type of business I wanted to have," Andrew said.
He recalls misty-eyed the excruciating moments he had to spend with his grandfather who owned a bank that had run smack into liquidity problems. He remembers sitting for hours on end with his grandfather whom he drove to the Central Bank to meet officials.
Being close to his grandfather, he aspired to own a bank after seeing his grandfather lose the bank he built for a lifetime. He pivoted to being in the wooden home product business on one key element and here Andrews' thinking process reveals why he made it so well.
Asked by TFD's Mike Olalia, his classmate in LSGH, what made him decide to be in the type of business he is in, Andrew answered that he and his wife analyzed the options together and key take-away was that "if you want to make orange juice go where the they are planted."
Thus, with Thailand being the world's largest source of rubber wood, and given the familiarity of his wife with the industry, and the sustainable competitive advantage on the home goods business, PJ Chonburi Parawood was born.
For him, the COVID-19 pandemic means "navigating the unknown." Also, "we know that the road ahead of us will definitely change. We need to prepare for multiple scenarios and at the same time be able to adjust and make decisions as fast as possible."
And "most importantly we would need to be able to execute our action plans as fast as possible," Andrew said. And for him, to go through this uncertainty, he is guided by what he says are lessons that the pandemic has taught him.
"On a personal note, given the daily challenges that we are facing and will continue to face I try to frame the situation and remind myself about the 3 P's – purpose, perception, and positivity."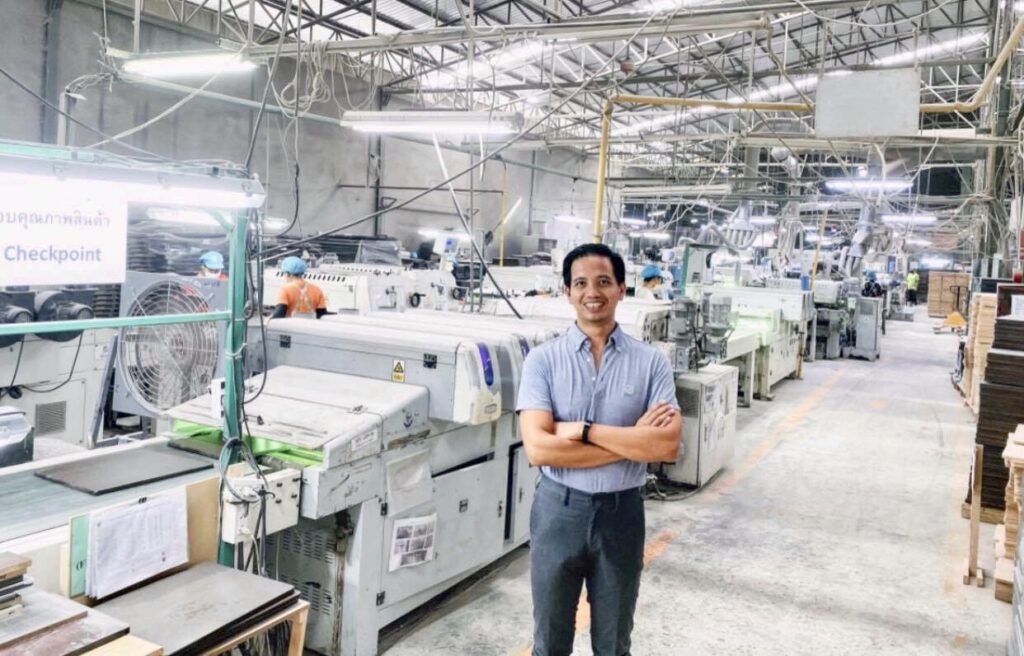 Andrew explains the concept.
"Having a clear purpose helps me get through problems on a daily basis. In our weekly management meetings we would remind our management team that things are challenging but don't forget why we are doing this.
"Our purpose can be as simple as we need to work to provide livelihood for our own families.
"In my case understanding the number of people who rely on us for their livelihood helps me get through the day – this helps me keep my energy especially on tough days.
"Our perception of the challenge in front of us is another factor that we need to train our mind to. When faced with different challenges associated with ramping up our production, we always need to have the perception of how blessed we are as compared to other industries or companies.
"Perception of the situation allows me to focus on the situation and avoid complaining about the situation. Scenario planning and having a clear understanding of the downside is important, and having a positive attitude helps us get through the days especially during this pandemic wherein challenges are present day in and day out."
And with that focus and vision, Andrew will be able to succeed in making a go of Myanmar as a manufacturing hub. In a way, he can pursue his earlier dream of being a banker although in a different setting for he wants to later on put up a VC fund that would help Filipino entrepreneurs create their own business narratives.
PJ Chonburi Parawood is now in need of the following positions:
Engineer
Customer service
Designer
Maintenance technician
Kababayan can send email to hrd@pjparawood.com or nop@pjparawood.com.
This article is originally posted on The Financial District