PRESS RELEASE FROM THE TOURISM AUTHORITY OF THAILAND
Bangkok, 24 April 2019 – Thai Airways International (THAI) is holding "See the World Sense the World" photo contest for passengers who travel with THAI or THAI Smile during 26 April – 15 July 2019 and share photographs on social media to win roundtrip tickets.
Contestants must be 18 years of age or older who travel with THAI or THAI Smile within the dates indicated.
Photographic entries shall be posted as public posts on Instagram or Facebook with a limitation of three photos for each trip.
The caption must include flight number, date of departure, #LetsSenseTheWorld, and tag @ThaiAirways or @ThaiSmileAirways.
THAI and THAI Smile are offering a total of 38 THAI Royal Silk, THAI Economy, or THAI Smile Economy roundtrip air tickets for winners.
The winners will be announced on 15 August 2019 on www.thaiairways.com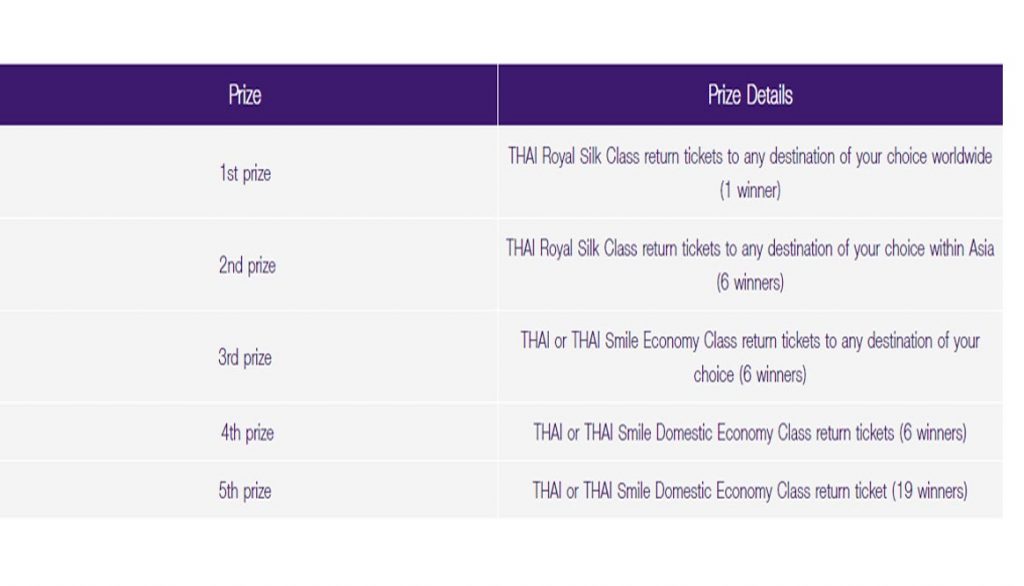 Participant requirements:
18 years or older
Be a Thai or foreign national.
Have a valid Facebook or Instagram account.
Travel with Thai Airways (THAI) or THAI Smile between 26 April 2019 and 15 July 2019.
Be the rightful owner of the photograph/s without violating or infringing on the rights of others.
The photographic entry must never have been entered in any contest before, and/or must never have been published or have been used to engage in any commercial use or purpose before.
Any photograph taken during a journey using an airline staff ticket or a complimentary ticket is prohibited.
Colour adjustments or conversions to greyscale that do not alter the content are permitted.
Source: Tourism Authority of Thailand

[mashshare]