I have been in Thailand for 5 years. Recently, I changed school and we had to process our non-b visa again outside the country. We had received the complete documents from our new school addressed to Savannakhet Thai Consulate. We contacted different agencies to help us but we were advised by some friends to go just by ourselves since our new place is only 2 hours drive from Mukdahan.
For meet up at the border (Mukdahan Immigration), we asked different agencies, Meesuk offers 4,000 baht including visa. Other agency offers 3,700 including visa fee. The difference is not that much if you are travelling from Bangkok. Agency fees range from 4,200- 4,500 baht.
I and my husband decided to go by ourselves without the aid of a travel agency.
Here are the step by step process (with some notes to help you by) we took in getting visa at Savannakhet.
Step 1
If you are travelling from Bangkok, you can ride a bus to Mukdahan. From the bus terminal, there are "tuktuks" going to the border.
If you are driving, you can leave your car in the open space beside the border. It is free but it is uncovered. If you want your car protected, there is a covered parking area. Some of my friends said it is only 150 baht for 1 night in regular days. We went there on Songkran, we were charged 250 baht/night.
Step 2
There is a ticket booth where you get a bus ticket costing 50 baht.
Step 3
The queue is long, there are only 3 immigration booths. It will take you an hour to get your visa stamped "departed in Thailand". Best to be there before 8:00 a.m, visa processing in the consulate is only until 11:00 am. We arrived there at 11:15 am so we were never allowed to go in, we had to wait for the next day. We were late going in because we had a little problem with our cancellation of old visa.
Note: Be mindful of your line, some people will just insert in front of you and pretend that nothing happened. Don't leave even a little space when you are on queue, you'll be surprised how other people find ways.
Step 4
After you passed immigration, wait for the bus to take you to Laos immigration. The bus leaves every 30 minutes. Somebody will collect the ticket before you can get in the bus.
Step 5
Fill out the arrival form in Laos border. Indicate the name of the hotel where you plan to stay.
[other-posts]
Step 6
There are tuktuks waiting after you pass immigration. Negotiation is the key. Drivers will approach you and ask for 300-500 baht. A taxi driver offered us for 400 baht to the consulate, we were able to negotiate for 200 baht for an air-conditioned taxi. Some say you can get 50 baht per person in tuktuk, minimum of 3 people.
Step 7
Since we arrived late on the first day, we waited for the next day to go back to the consulate. The following day, we were there by 7 am, the line was short so we were first to get processed. In front of the consulate, there is sign that says 8:30-11:00, but they actually opened at 9:00 am. There is no number provided, so the people have to take a queue.
Note: Make sure you have photocopied all your documents before you left Thailand. There is only ONE copy center in front of the consulate, and it's 10 baht per copy, 100 baht for the picture. There is no application form provided at the gate. Even if the form says "not for sale", we had to buy the form from the photocopier guy for 10 baht.
You can download the form online here before leaving Thailand.
Step 8
After you submitted your application with your complete documents and payment of 2000 baht, they will give you a number to claim at 2:00 pm the following day.
Note: It is more convenient to process your non-b visa here because they don't ask for police clearance. There's no online appointment, once you are inside the gate, as long as your documents are complete, it will be processed very fast.
If you want to apply for a tourist visa, you need to have at least 20,000 baht in your bank account, they would ask for show money.
[adrotate banner="11″]
Step 9
For your accommodation, it is better if you have booked online. Just ask any tuktuk to take you to your hotel. If you decide to look for hotel there, you may negotiate for the price because they tend to overprice. In our case, we didn't have hotel reservation, we just walked and found Somchith Hotel, walking distance from the consulate. The hotel is only 400 baht/night. But if you are looking for luxury, this is not the right hotel for you. The rooms are dark, unkempt, no free breakfast, but the aircon and water heater are working well. Hotels range from 300 baht to 1,500 baht.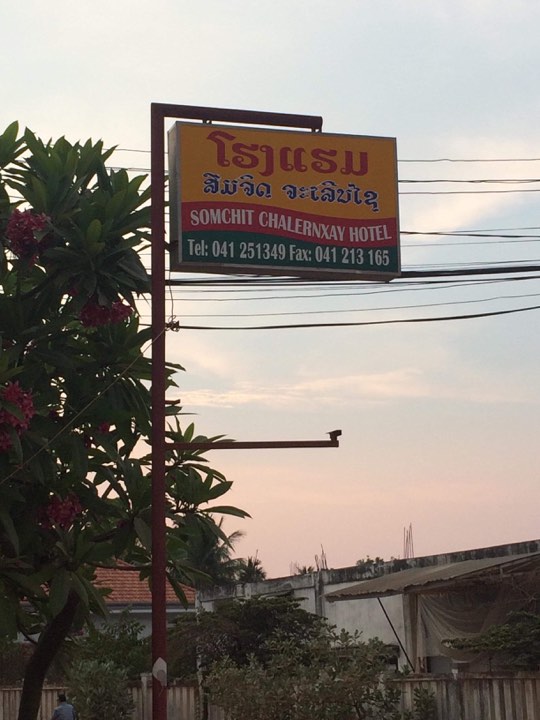 Step 10
The food! It is best to bring some food from Thailand! There is nowhere near our hotel during the day where we could buy decent food. We tried the Laoatian eatery across the street and the food tasted terrible and looked nasty.
During night, there were plenty of options, the cafes and restaurants are open. We walked going to the bus station and we found a perfect place to eat at Savan Barbecue, a cozy air-conditioned restaurant. Check the photo below. There are many great choices, those are the food we tried and it's worth it.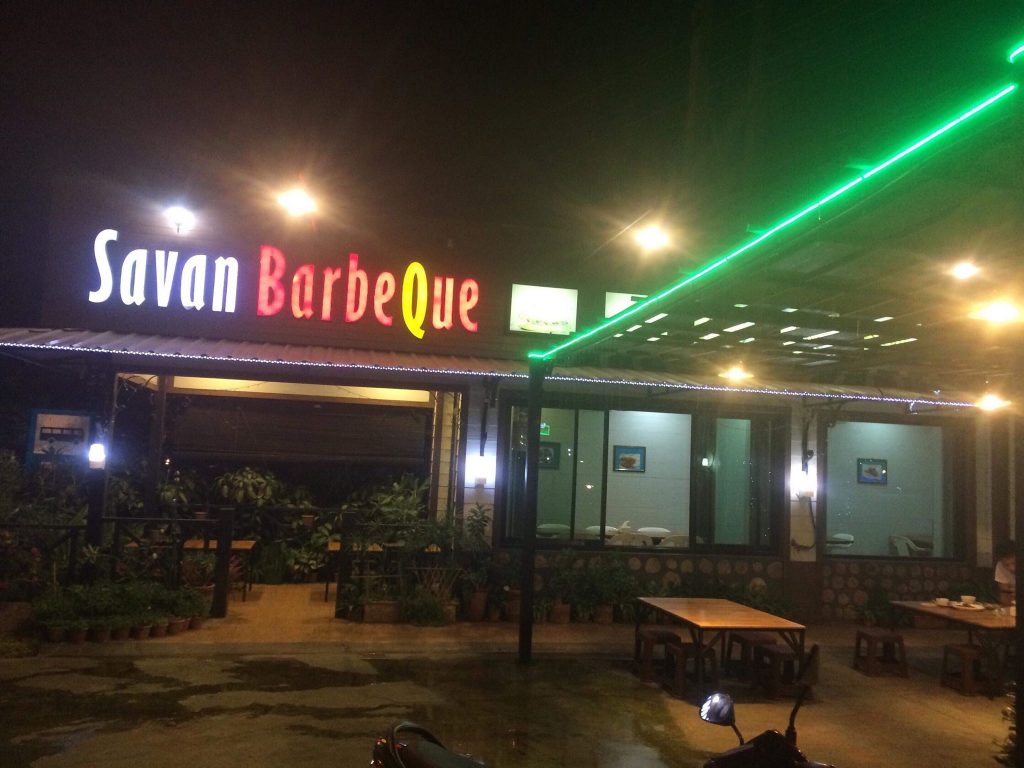 Next to Savan Barbecue is Sabaidee Mart. It is only 10 minutes walk from the consulate.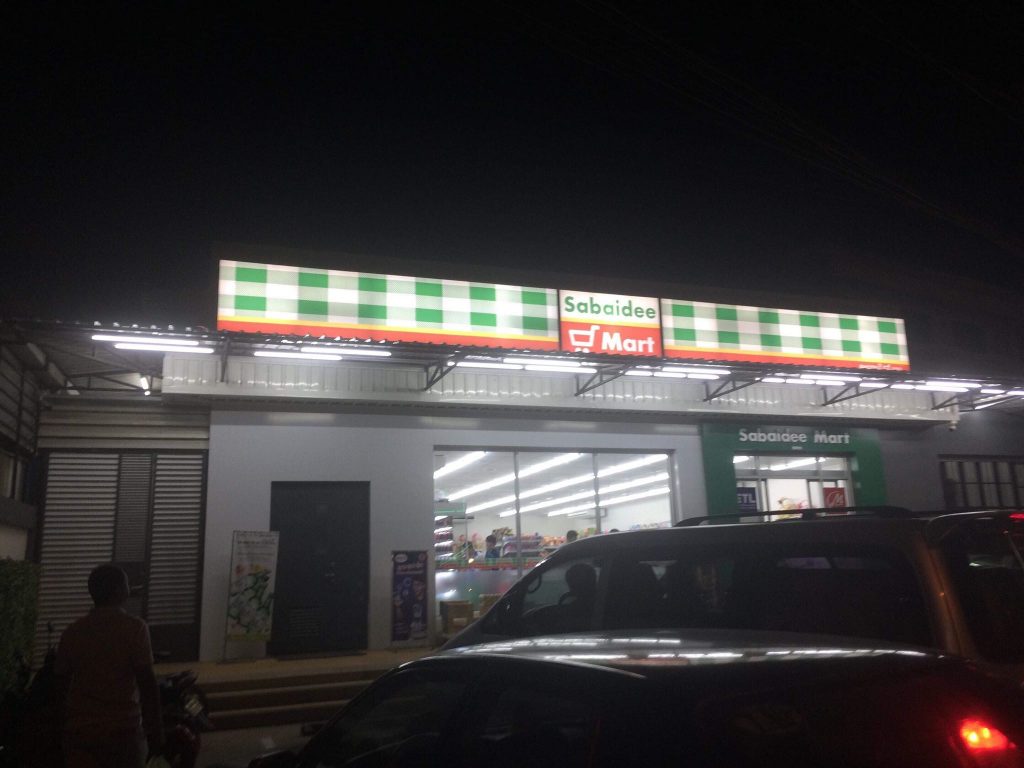 The following day, we tried the Machiatto De Café, the food is awesome, the place is great and cozy but pricey. There are varieties of food to choose from – steaks, pizzas, salads, coffee, and smoothies. If you are budget conscious, this is not the perfect place. We ordered coffee, juice, 2 sets of rice with beef/basil for 150,000 kip(780 baht). This is only 5 minutes walk from the consulate, opens from 8:00 am to 6:00 pm and closed on Wednesdays.
Step 11
The following day, we checked out at 12:00 noon, and headed to the consulate hoping to get our visa early, but we were disappointed because they returned from lunch break at 2:00 pm. we had to wait outside. If you can checkout from your hotel at least 1 pm, it's better.
Step 12
Releasing of visa/passport only takes 5-10 minutes. Tuktuks are waiting outside to take you back to the border. We were able to negotiate and paid 150 baht for the whole trip, not bad for 3 passengers.
[adrotate banner="11″]
Step 13
After you passed Lao Immigration, get a bus ticket again, it is 55 baht.
Step 14
When you reach the Thai (Mukdahan) immigration, somebody will hand you the arrival/departure card, fill it out and go to the 2nd line (Foreign and ASEAN). Once your passport is stamped, place your bag on the x-ray machine and you're free to go. There are buses or tuktuks that will take you to the bus terminal.
Step 15
We were charged additional 250 baht for our car because we extended for another night, I was able to negotiate to 150 baht.
I wish you all a successful processing. I hope my travelogue helps you when you decide to go without an agency. My decision has turned out be fun and low-cost.
Under
Buhay OFW

,

How To's

,

Public Service

,

Resources

,

Staff Pick

,

Travel

,

agency

,

no agency

,

NON B

,

Savannakhet

,

visa

[mashshare]