In a question to Angel Manalo at around 12:30a.m. Friday, July 24 by some media men regarding the handwritten signs flashed on the window claiming that some were held hostage inside his residence, Angel categorically answered that it is not true. Nobody was held hostage at least in his residence, that it's only a kid's joke.
"I did not say that we were held hostage. Mayroon lang pong batang nagbibiro (A child apparently posted the note as a joke)," Manalo said. One among the crowd immediately responded with dismay that the 'joke' is not a good one.
On Thursday July 23, couple of hours before Angel finally emerged to shortly face the media, handwritten signs were flashed on window with various messages giving impression that the ones inside are in danger and need help. One of the signs says "Tulong hostage kami" ("Help, we're being held hostage").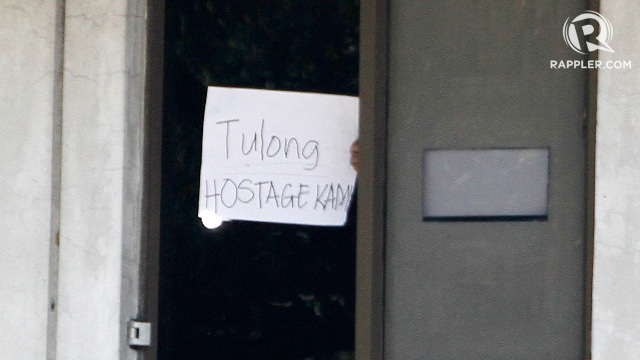 Angel clarified, however, that the reason why they remain inside their residence which is an INC property is that there are elements who want to harm them. He again mentioned that there are indeed missing ministers critical to the INC administration.
Angel and his mom, Tenny Manalo, were expelled from the membership of the Iglesia ni Cristo after posting a video on Youtube asking for help and protection against allegedly from the corrupt administrators of the church.
Source: news5philippines