At least 10 of Bangkok's best U.S. burger purveyors will gather from Friday to Sunday, October 2-4 at Square A Central World, Ratchaprasong, Bangkok to offer its patrons various tastes and flavors of American burgers.
Crowd should expect an aroma of sizzling ground beef as burger vendors serve their fresh-off-the-grill patties coupled with various signature seasoning and sauce.
The restaurants / food trucks participating are the following:
1. Daniel Thaiger
2. Mother Trucker
3. Orn the Road
4. Happy Bite
5. New York Style Steak and Burger
6. 25 Degree
7. Paper Butter and the Burger
8. Smashed Burgers
9. Eatdustry Cafe
10. Treecreeper (Scrambler Café)
The fun and excitement have already started in the U.S. Embassy's Facebook page with its free burgers offer of the participating burger brands. Contestant should comment with an original image of their favorite burger and tell the readers why they like U.S. beef burgers. Three comments with the most "likes" will each receive 10 vouchers worth 3,000 baht to be spent during the fair or in the respective participating restaurants.
The burger fest is organized by the U.S. Embassy as part of their bigger American Food, Fun and Family Fair.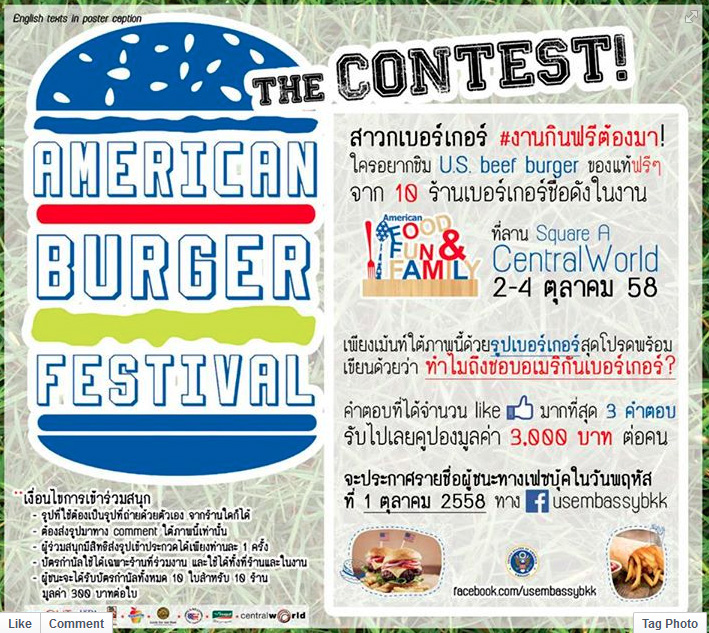 [mashshare]