The inspiring incident happened inside a known fast-food restaurant in Session Road, Baguio City, Philippines. Facebook user Hillary Lee Aguada posted the story online on August 12, and it has drawn praises and positive comments from the readers.
According to Aguada, while they were waiting for their turn to order at the counter, she saw a ragged old lady in worn out clothes standing near the cashier. The crew asked her order and the old lady did order hoping that it would be given for free. She was then informed that it costed her Php100. Since she didn't have any money, she just stood there silently.
A Korean guy who just finished ordering his food then stepped in and volunteered to pay for the woman's meal. The guy was observing the conversation between the elderly and the cashier and he took a 500-peso bill and handed it to the latter!
Blessed and overwhelmed by what she saw, Aguada tapped the guy's shoulder while telling him "May God bless you even more, Kuya!". The Korean guy smiled from ear to ear, according to Aguada.
But the story did not end there. The guy actually shared the table with the elderly!
Ms Aguada could not contain her emotion upon witnessing the incident. She was inspired to share what she had witnessed so that others would be blessed as well.
"My heart melted. This man just reflected JESUS and His heart. Wow! God is indeed good! God indeed blesses His people! God indeed loves His children! God is moving in the hearts of these people!" shouted out by Ms Aguada.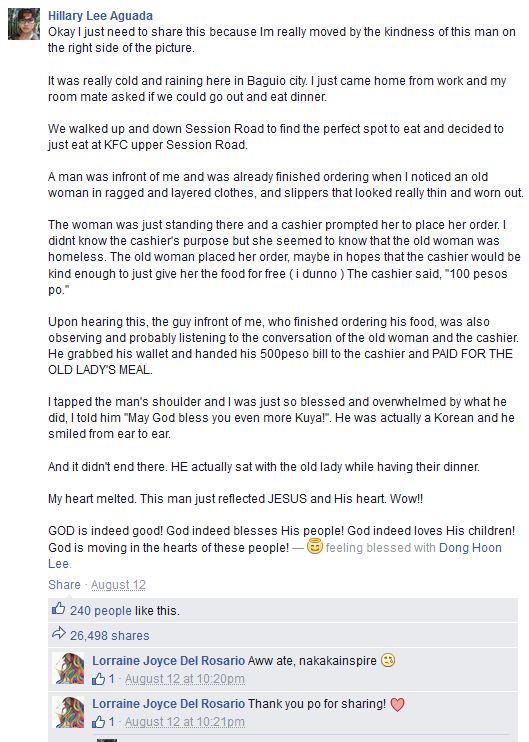 Source: Hillary Lee Aguada