It is no other than the Department of Education Secretary Armin Luistro said on Monday, August 10 that he approves the possibility of using 'beki' or gay language
as a medium of classroom instruction. Luistro's announcement came with this month's celebration of the Filipino Language. The chief director also reiterated that "the new K-to-12 curriculum aims to address the challenge to make our youth use and nurture the languages that they grew up with as well as the National Language".
In another news, DepEd ASec. Jesus Mateo supports Luistro's declaration when he gave his own statement on News5, he pointed out that if gay lingo is the language that students understand then it is only appropriate for teachers to use it in the classroom. Further, he stated that if these colloquial words will be widely accepted by majority in the society then it should be part of the nation's language.
But how many people really know and understand this gay lingo? Is it really that widely used now or only to a portion of our community?
'Salitang kanto' or street lingo has been in the Philippine society long before any gay lingo is used. But it is never suggested by any government official as medium for teaching for the reason that it is unprofessional and not useful in the workplace.
Ironically, some students do not agree with the DepEd. Katrina de Guzman, a first year high school student, pointed out that this gay lingo is not decent in a corporate or company setting. If so, then why introduce or promote it in the classroom in the first place?
Some netizens including parents and students showed dismay with this suggestion by the DepEd. Some commented that DepEd should instead help students learn other foreign languages such as French or Japanese which would widen the student's chance of getting hired.
Others pleaded with the DepEd not to allow gay lingo or any informal language as it will not help students to be serious in their studies.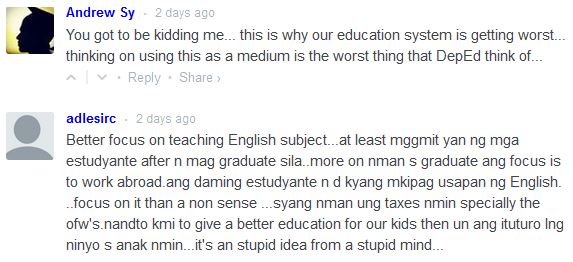 What is your take on this? Should the DepEd also allow 'salitang kanto' (colloquial words) to be used in the academic enriching?

Sources: News5, Manila Times

[mashshare]