To All Filipinos Overseas,
As President of United Filipinos in Thailand (UFT), I would like to extend my heartfelt greetings to the Filipinos working in Thailand and all Filipino Overseas Workers worldwide.
Christmas and New Year is the festive season when we celebrate family and new beginnings. For Filipinos who cannot go home for the holidays it is a time of mixed emotions. They are happy to support their families back home, but sad not to be with them. In the Christian tradition, I am sure you take joy from the happiness you sponsor.
Ten million Filipinos work outside their native land to pursue their careers or financial needs. My earnest wish is that this be by choice not from dire need. In the future may all Filipinos be able to pursue their dreams whether at home or abroad.
In the meantime be proud that you made the best of your circumstances and cherish the love you generate in your families back home.
Wishing everyone a New Year full of new possibilities!
Ms. Angie dela Rosa-King
UFT President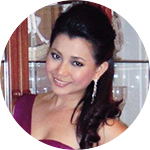 ---