From P2,400 annually, Overseas Filipino Workers (OFWs) must pay Philippine Health Insurance Corporation (PhilHealth) premium contribution of up to P21,600 this 2020.
In the new contribution schedule of PhilHealth which was released in November 2019, OFWs are now categorized as 'Direct Contributors' in accordance to the Universal Health Care (UHC) Law of 2019 and its implementing rules and regulations.
Direct contributors refer to those who are gainfully employed and bound by an employer-employee relationship. Aside from OFWs, kasambahays, self-earning individuals, and practicing professionals belong to this membership category as well.
"In its PhilHealth Circular No. 2019-0009 published on November 23, 2019, premium rate for Direct Contributors shall still be at 2.75% of their monthly basic salary with an adjusted ceiling of P50,000. In 2020, PhilHealth will increase the rate to 3% and henceforth adjusted to increments of 0.5% every year until it reaches the 5% limit in 2025 as provided for by law. Income floor is fixed at P10,000 during the 5-year period, while salary ceiling will gradually increase by P10,000 each year from P60,000 until it reaches P100,000 in 2025," PhilHealth explained in a statement.
For those earning below the salary floor of P10,000, contributions are computed using the minimum threshold; while those who earn the set ceilings/limits shall pay premiums based on the set ceiling. This policy shall also apply to seafarers.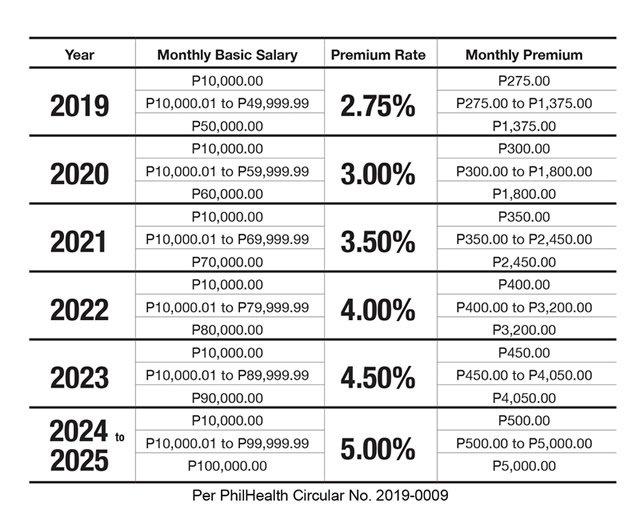 Read more at Iloilo Today and PhilHealth website