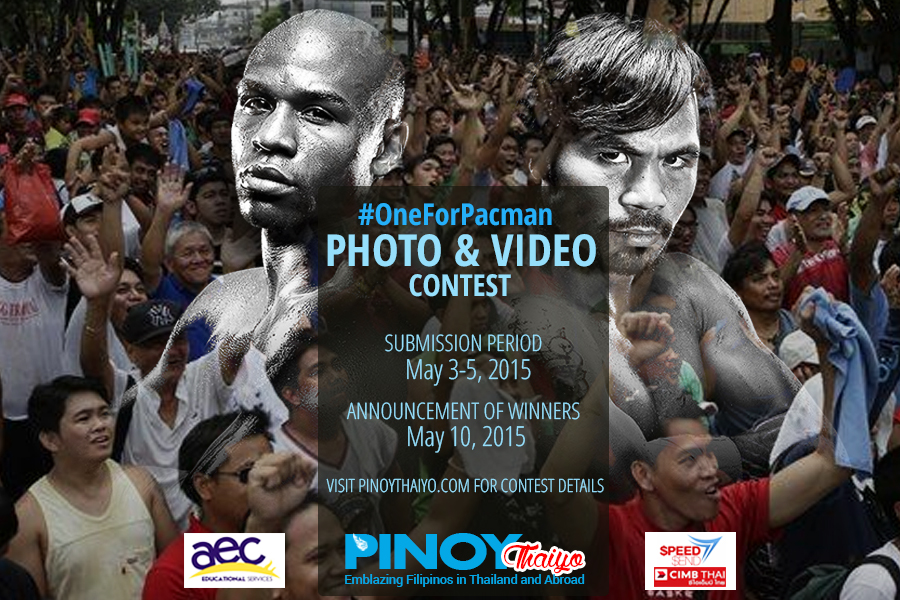 With your camera or smartphone ready, capture the best moments of our kababayans cheering for Manny Pacquiao in his fight with Mayweather this May 3, 2015 Sunday (Bangkok time). DSLR or high-end camera is not necessary. Your smartphone is good enough.
It can be a group photo/video or a selfie or any candid shot with the on-going fight clearly seen in the photo/video. Props such as flags, banners, pom-poms, face paints, etc. are mostly welcome. The more creative and interesting it is the higher your chance of winning!
MECHANICS (IN BRIEF)
Step1: Submit your entry
Step2: Invite your friends to vote
Step3: Wait for the announcement of winners
Step4: Claim your prize!
PRIZES:
Photo Contest – 1 Winner of
1 Ticket For Suan Siam (Siam Park) +
2 $peed$end Durable Umbrellas +
1 $peed$end Shirt
Video Contest – 2 Winners of
1 Ticket For Suan Siam (Siam Park) +
2 $peed$end Durable Umbrellas +
1 $peed$end Shirt
RULES AND MECHANICS:
1. The entrant must be at least 18 years old at the time of the contest
2. The entrant can submit up to two photos and two videos only
3. Give the photo/video a title and a caption. Example:
Title of the photo/video: "Barangay Klongtan for Pacman"
Caption: "Brgy Klongtan cheering for Pacman on top of their voices"
Sender's Name as written in the Passport: Juan Dela Cruz
Sender's email address: juandelacruz@gmail.com
4. The photo must be at least 900px wide.
5. The photo is not a composite image.
6. The entry must be a raw shot (not edited in any photo or video editor). However you can trim the video or crop the photo if necessary before submitting.
7. The video can be from 20-50 seconds only.
8. Submit your photo entry here. Do not send the photo via Facebook as the image quality will decrease.
9. Submit your best video as a private message directly to facebook.com/pinoythaiyo, or email to promotions@pinoythaiyo.com.
10. Deadline of submission is until Tuesday May 05 2015 23:59 only
11. Voting starts on May 06, 2015 until May 09, 2015 Saturday 23:59 only.
12. Only votes from our website is counted. A voter can cast two votes for each entry within a day.
13. To avoid confusion, do not post your entry in any website, blog, or Youtube before May 10, 2015. You may do so afterwards.
14. Judges will pick the winners from the entries with the top votes.
15. Judges decision is final.
16. Winners will be announced in our sponsors' Facebook pages and group. Winners will be notified thru email or Facebook message as well.
17. Announcement of winners will be on May 10, 2015 Sunday.
18. $peed$end prizes can be claimed at CIMB bank, BigC Huamark Branch, Bangkok. To claim the prize from $peed$end, winners must send a minimum of 300 baht on that day to the Philippines.
19. Bring your passport when claiming the prize.
20. Upon submitting your entry (photo/video), you agree that you solely own the photo/video, and that you are granting PinoyThaiyo and the event sponsors the license to use your photo/video in their publishing whether electronic or printed, altered, modified or as-is, and that you will not ask for any compensation accrued upon from its publishing.
That's all!
If you are ready, please like our sponsors Facebook pages and group for the announcement of winners,
… and proceed to the next page for the submission of photo entries.
Video entries should be emailed to promotion@pinoythaiyo.com, or send a private message to facebook.com/pinoythaiyo.