Three cities from Thailand and eleven from the Philippines were identified as among Southeast Asia's cleanest cities in 2018 World Air Quality Report released on Tuesday by AirVisual.
Calamba, Philippines was hailed as the cleanest city in Southeast Asia. Meanwhile Satun, Narathiwat, and Nan were among the cleanest cities.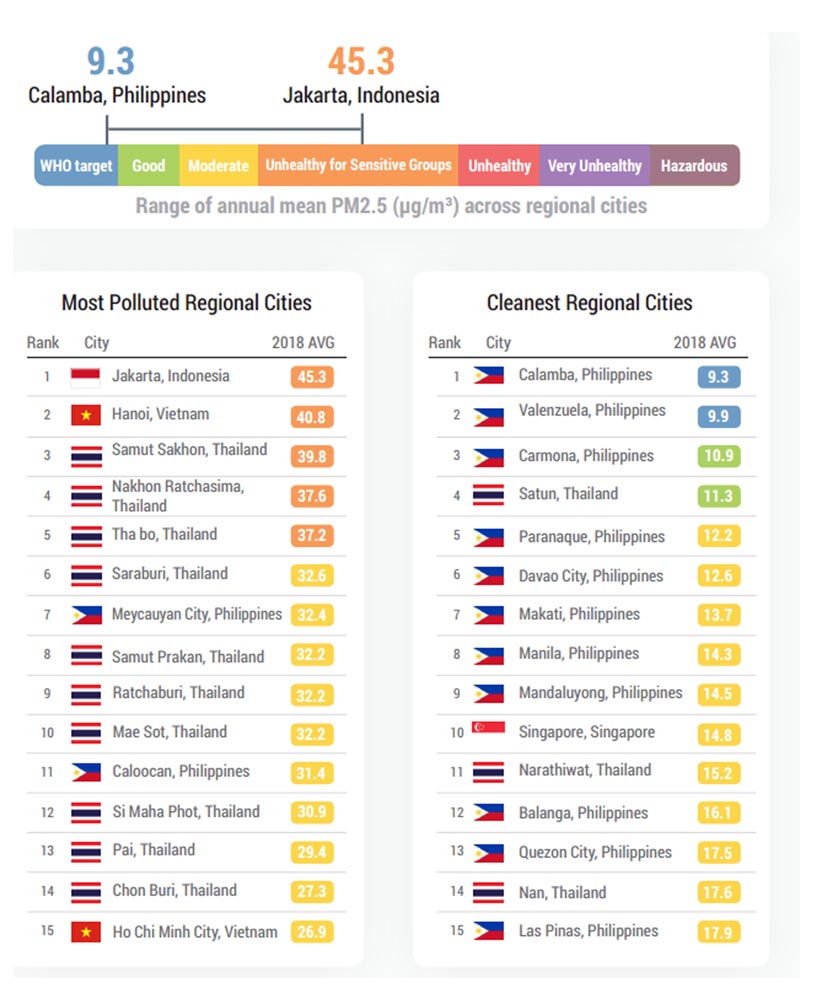 The Report also identified Jakarta, Indonesia as the most polluted city in the Southeast Asian Region. Among those listed as 15 Most Polluted Cities in Southeast Asia, 10 were from Thailand, namely: Samut Sakorn, Nakhon Ratchasima, Tha Bo, Saraburi, Samut Prakan, Ratchaburi, Mae Sot, Si Maha Phot, Pai, and Chonburi and 2 were from the Philippines: Meycauyan and Caloocan.
The Report also emphasized that the burning of biomass, vehicular emissions and transportation are the common leading sources of air pollution in the region. In the rural areas "pollution spikes are often related to seasonal agricultural practice of open burning, where land is burned in order to provide a more nutrient rich environment for future crops, particularly within Indonesia. These emissions often contribute to the spread of transboundary air pollution across the neighboring countries," while in urban areas, "transportation and industry are among the leading contributors, with high numbers of small vehicles such as motorbikes. There is strong correlation between urbanization and air pollution in this region: Jakarta and Hanoi have the highest recorded air pollution in the region, and are also among the most populated cities."
Bangladesh was identified as the most polluted city in the world while New Delhi in India was the most polluted capital city. Thailand and Philippines were ranked 23rd and 48th respectively among the world's most polluted countries.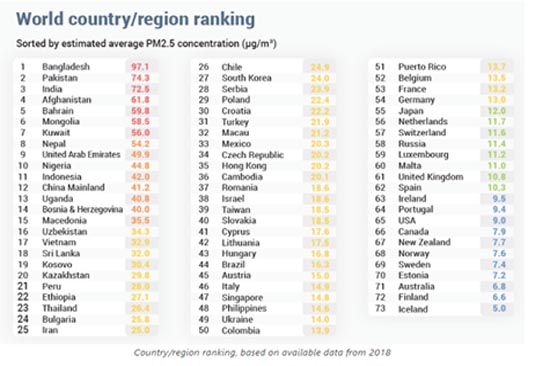 According to World Health Organization, "Air pollution is the greatest environmental risk to health today, estimated to contribute to 7 million premature deaths every year. Polluted air presents the world's 4th leading contributing cause of early deaths, and burdens the global economy with an estimated annual cost of $225 billion (USD)."
AirVisual was founded in 2015 with the belief that air pollution is a global problem, requiring a global solution and that "the will of citizens and communities has enormous power to shape our world into a healthier, smarter place."
To access the full report click this link: https://www.airvisual.com/world-most-polluted-countries