River City Bangkok (RCB) Film Club is set to screen a new set of thought-provoking range of films from different countries this month. Five movies will be screened for FREE on Saturdays starting September 2, 2017.
"We have again selected a thought-provoking range of films, by award-winning Directors from a  diverse range of countries, which have created waves at festivals around the world​," said RCB Film Club.
RCB film screenings have always been attended by ambassadors, diplomats, professional film critics and movie lovers. Snacks and drinks are also available for free.
Here are the five movies slated for the month of September at River City Bangkok room 201 on the 2nd floor.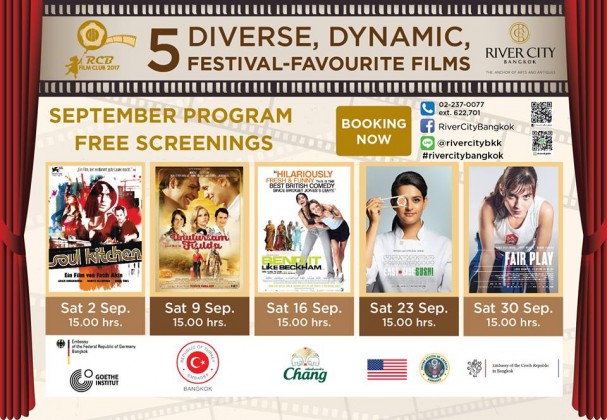 OPENING FILM
'SOUL KITCHEN', GERMANY, Directed by Fatih Akin
SATURDAY, 2 SEPTEMBER, 3 PM
With Snacks and Drinks, from the Embassy of Germany and Goethe Institute. The movie, directed by master German film-maker Fatih Akin, of Turkish origin, combines food and music to offer a multi-dimensional portrait of the multi-ethnic community in Germany. It won awards at the top festivals of the world, like Venice and Toronto.
San Francisco Chronicle: 'Soul Kitchen has a vitality that's difficult to resist.'
'UNUTURSAM FISILDA' ('WHISPER, IF I FORGET'), TURKEY, Directed by Cagan Irmak
SATURDAY, 9 SEPTEMBER, 3 PM
With Snacks and Drinks, from the Embassy of TurkeyA lush and melodramatic love-story, the movie by top Turkish director Cagan Irmak, centres around the meteoric rise of a beautiful singer. The memorable songs and masterful performances are the chief highlights of a movie that was a commercial hit and also won many accolades.
TheMagger (Turkish): 'The admirable acting transforms the roles into an irresistible success feast.'
'BEND IT LIKE BECKHAM', UK, Directed by Gurinder Chadha
SATURDAY 16 SEPTEMBER, 3 PM.
With CHANG Beverages and Snacks, after the screening.
This memorable Brit-Indian movie by the famed British film maker Gurinder Chadha OBE, of Indian origin, combines sport, music, social drama, with a subtlety and mastery that won the film numerous awards, as well as commercial success around the world.
BBCi : 'Gurinder Chadha turns this British-Asian film about a clash between traditional values and the modern world into a fantastic feel-good movie .'
'EAST SIDE SUSHI', USA, Directed by Anthony Lucero
SATURDAY, 23 SEPTEMBER, 3 PM
Supported by the Embassy of the United States of America
With Sushi, after the screening.
This vibrant tale of a Mexican girl who wants to become a sushi chef in a Japanese restaurant, is studded with feeling, energy, culinary richness. A moving story of immigrants, the film won the Audience Award at many festivals.
Influx Magazine: 'Lovely little film-one that made me hungry for more.'
CLOSING FILM
'FAIR PLAY', CZECH REPUBLIC, Directed by Andrea Sedlackova
SATURDAY, 30 SEPTEMBER, 3 PM
With Snacks and Drinks, from the Embassy of the Czech Republic.
This strong and thought-provoking film that centres around the issue of doping in sport during the Communist era , is topical and relevant even today. The wonderfully humane tale bagged many awards, and was the Czech Oscar nominee in 2014.
Hollywood Reporter: 'A gripping tale of grace under pressure, crisply shot, and handsomely packaged.'
For reservations:
anusorn@rivercity.co.th/ rcbfilmclub@gmail.com
Tel. 022370077-8 ext. 622, 701
Facebook: River City Bangkok
website: https://www.rivercity.com
How to go to the venue:
River City Bangkok (RCB) is located near Royal Orchid Sheraton Hotel, and is accessible from Hualampong MRT and Saphan Thaksin BTS.
There is  a free RCB shuttle-boat​ from Saphan Thaksin pier​, at 3-00 pm.
The free Royal Orchid Sheraton Hotel  shuttle-boat can also be taken.
​There are regular boat-services from Saphan Thaksin Pier to Siphaya Pier, which is closest to RCB.