Happiness can be seen on the faces of 16 Filipino seafarers who got stranded in the Gulf of Koh Si Chang when they finally stepped out of the cargo ship for the last time.
The group got stranded in Chonburi from June 16 to October 25 while getting a number of unfulfilled promises from their employer and ship owner. Finally, after more than four months of living aboard MV Panormits, the group repatriated to the Philippines via Philippine Airline PR737 on Saturday, October 22, 2016. They departed from Suvarnabhumi International Airport at 5:55 pm.
Their transportation was arranged by their Thai lawyer Atty. Jaroen Suwannawat. At the airport, they were accompanied by Philippine Embassy officials led by Vice Consul Jim Minglana and OFW Quickservants United for Duterte officers.
A case has been filed against the owner of the ship in Thailand to get the seafarers' salaries and payment for damages. All legal fees and expenses will be paid by Arphaphil.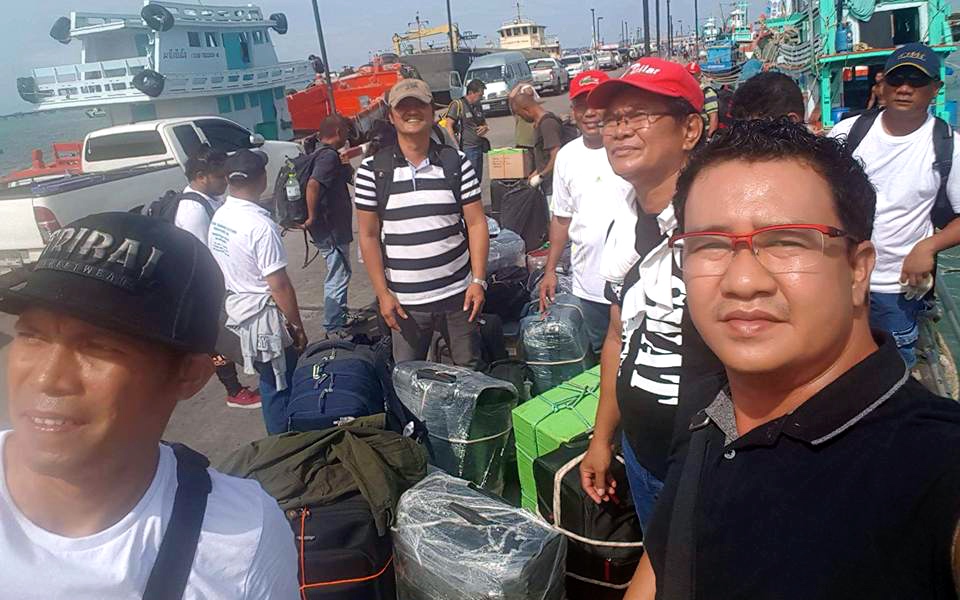 The group's misfortune started in February even before docking in Thailand. According to their account,  Arphaphil Shipping Corporation, which is under Unibulk Shipping Corporation in Greece has not paid them since April 2016. They added that the group encountered the same problem in Iran where they ducked for nine days for not getting their salary since February.
The group decided to sail to Thailand after signing an agreement with the owner, charterer and the crew. A crew member said that the agreement stipulated that the company will pay all their unpaid wages and buy them air tickets to Manila. However, the company never fulfilled its promises after arriving in Thailand.
Before leaving Thailand, all of them were not paid for more than seven months and only relied on help from the Philippine government, Thai law enforcers, private organizations such as Stella Maris and Filipino community in Thailand which all provided them with cash and goods. At one point they were escorted by Thai authorities and Stella Maris officials to Bangkok for interview after their case became public knowledge in the kingdom.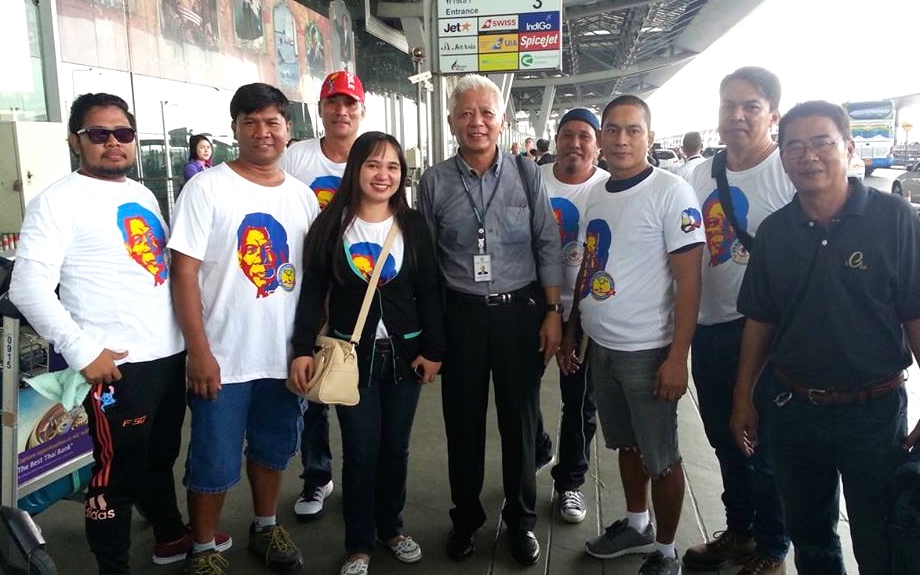 Philippine Embassy through the Assistance to Nationals officer Nel Amurao assisted the seamen by communicating with officials in the Philippines and representing the seafarers in Thailand. Subsistence allowance was also provided by the government and Arphaphil.
OFW Quickservants, a dedicated group of President Duterte's advocacies led by Nelly Palpallatoc also made follow-ups with government agencies to fastrack the case and led fundraising campaigns together with other Filipino groups from Bangkok, Nonthaburi, Rayong, Chonburi and Sriracha. SWD Kapamilya then headed by Jane Cabaya and other good Samaritans who remain anonymous also helped.
On Saturday the seafarers were welcomed by officials from Overseas Workers Welfare Association (OWWA), Department of Foreign Affairs (DFA), Philippine Overseas Employment Agency (POEA) and OFW Helpdesk led by Mr. Joe Biasong.
Meanwhile, POEA Dir. Rosemarie Duques assured continuous legal assistance for the distressed OFWs.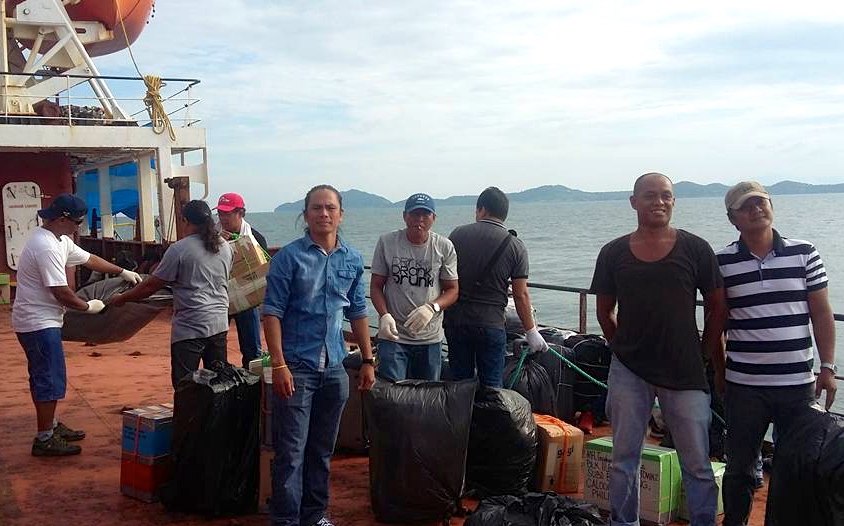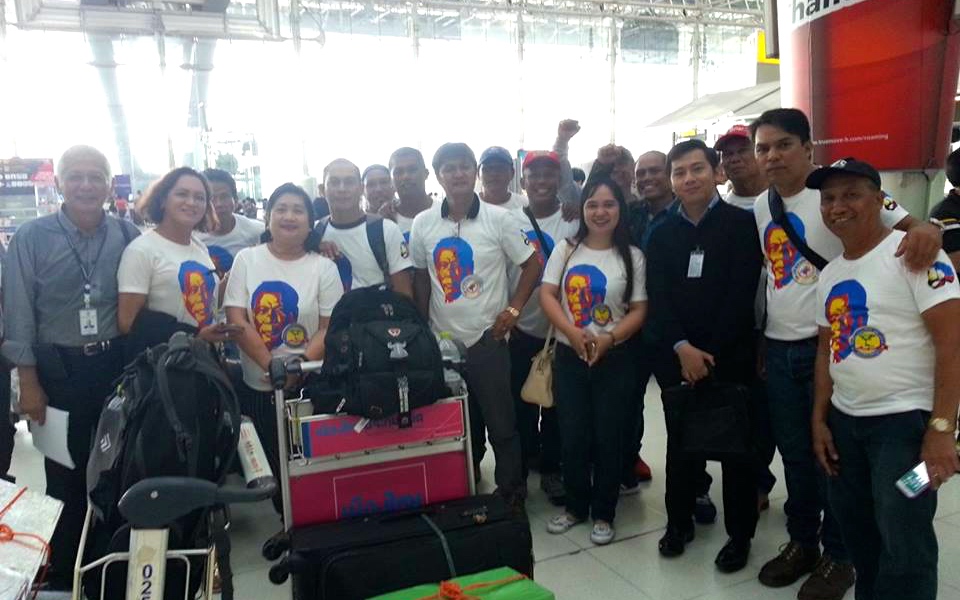 Here are PinoyThaiyo's related articles about the seafarers.
16 Filipino seafarers stranded in Thailand ask for help
Help sought for 16 Filipino seafarers stranded in Koh Si Chang
Filipinos in Thailand unite to help stranded Pinoy seafarers
Filipinos in Thailand unite to help stranded Pinoy seafarers
Different Thai agencies commit to help Pinoy seafarers, gov in custody of the ship
Pinoy seamen receive 1,000 USD allowance from contractor
Ship owner asks until weekend to pay the seamen
M/V Panormitis runs out of diesel, ship owner fails to pay seafarers