Are you a smartphone lover or a collector? Have you ever dreamed of owning the latest and the most innovative smartphone that you can show off to you colleagues or friends? When you ask people of smartphone brand, they may say, "iPhone" or "Samsung" because these smartphone brands are very popular nowadays and undoubtedly people like it because of their unending innovation in style, design and functionality. But what if you hear there's a new name in the smartphone industry that surpasses the leading brands in terms of functionality and even style?
YotaPhone is buzzing in the technology world after its latest smartphone called YotaPhone 2 has come out of the market in 2014. While many of us are enjoying our iPhone or Samsung smartphone, there is a company (not named) that has developed the 'smartest' smartphone in the world, the YotaPhone 2, the world's first dual smartphone capable of doing almost everything.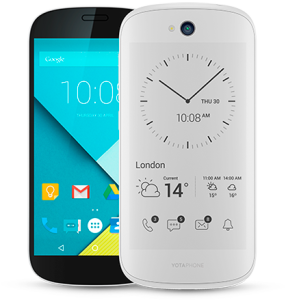 What can YotaPhone 2 do?
Like other smartphones, YotaPhone lets you do more than surfing the net, reading eBooks, calling, sending sms, logging into your favorite social network site, etc. YotaPhone has a dual screen display which you could not find from other smartphones. Yes, the screen is back to back, front and back.
Dual Screen Function
Regular LCD screens bounce back light that's why it is difficult to read what is displayed on screen outdoor during the sunny weather. YotaPhone has two screens, the front and the back screens. Front screens is the main screen which displays all the information you need while the back screen serves the back-up screen which you can use outdoor during sunny days. The back screen uses the Electronic Paper Display (EPD) which absorbs light and make everything displayed on screen readable without using so much battery power. This secondary screen also serves as the mirror screen which is able to display information from the primary or front screen. This screen is also suitable for reading eBooks or other functions. Most importantly, it saves battery power as much as 3x more than other smartphones.

The EPD has a touch screen display which also can do a lot of functions.
Specifications and Functions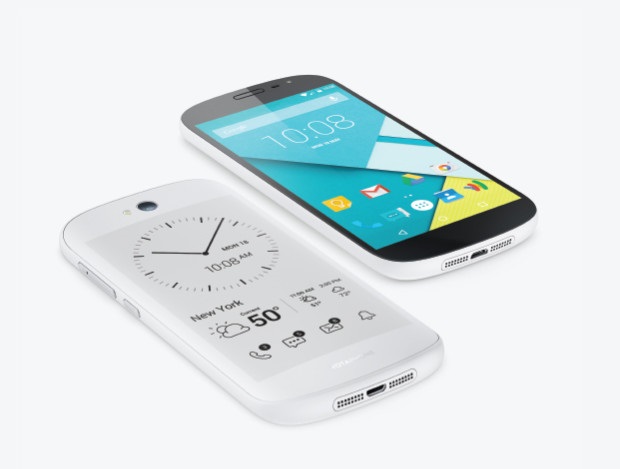 Always-on Screen
Color Screening
4.7" EPD960x540
16-level gray scale
Full capacitive touch
235ppi
Corning Gorilla glass 3
5" AMOLEDFull HD 1920×1080
16M colors
Full capacitive touch
442ppi
Corning Gorilla glass 3
CPU
Dimension
Qualcomm ® Snapdragon ™801 2.2 GHz quad-core
144.9×69.4×8.95 mmFull HD 1920×1080
Weight: 145g
Power
GPS
2500mAh lithium-polymer battery
Qualcomm® Quick Charge ™ 2.0
A-GPS + GLONASS
Network
Connectivity
GSM/EGPRS 850, 900, 1800, 1900 MHz
WCDMA, DC HSDPA (rel. 8, cat. 24)
HSUPA (rel. 7, cat 4) bands 2,3,4,5,7,12 and 20
WiFi 802.11 a/b/g/n/ac
Bluetooth ® 4.0
NFC
A-GPS + GLONASS
Wireless Charging
YotaPhone Accessories
What is more unique with YotaPhone? It's the wireless charger which other phones do not have.
YotaPhone Campaign and Marketing
YotaPhone has recently started a campaign in IndieGoGo, a fund-raising website, to promote its latest smartphone with a goal of $50, 000 for 60 days but 2 days after the campaign was launched, YotaPhone raised more than $140, 000 US dollars which is more that 200% of it goal. Now a lot of Americans want to be the first to use the World's First Dual Screen Smartphone.
Watch the video below to know more about YotaPhone:
Here is the transcription of the video.
What if we see the world around us the wrong way? What if we are just used to a one-sided world?
Feelings, dreams, hearing, seeking love, use too one-sided. Freedom one-sided communication. But what if, what if one side is not enough?
YotaPhone, the phone with two fronts. We are so used to our smartphones that we accept the fact that we have to charge them multiple times a day. We can't see, we can't read in sunlight. It requires a lot of effort and clicks to get access to information we need. And we thought, what if we look the smart phone from the other side? And that's how YotaPhone was born and solve all these problems.
IT doesn't waste battery power and legible under the sunlight all information you need is available to you just at the glance and this screen can even act as a nice photo frame. Plus electronic paper display doesn't hurt your eyes and it is perfect for reading. Over the last two years we've developed a two generations of YotaPhone and now we are selling Yota phone to more than 20 countries. This phone has won more than prestigious industry awards and has been called many times as the most innovative and disruptive smartphone of the year but we need your help to bring this innovative disruptive smartphone to North America so please support our IndieGoGo campaign and be part of Yota screen revolution with YotaPhone
So what do you think about this phone? Share this if you support innovation!