UPDATE: Craig Thompson breaks silence, issues letter of apology.
Aghast fellow expats from different countries came to the defense of Filipino teacher applicants in Thailand following a racist advertisement posted on social media Wednesday evening.
A man whose name is Craig Thompson caught the ire of many foreigners after he posted a job offer on BANGKOK EXPATS Facebook group which bears racist comments and expletives against prospective Filipino teacher applicants.
In his post, Thompson said:
"Hi everyone, I have a job based in Beung Kan (North Thailand). Native Speakers Only! No Filipinos sorry to say. Actually I will not apologize! I DO NOT WANT FILIPINOS WORKING FOR ME! IF YOU DO NOT LIKE THIS (F**K OFF)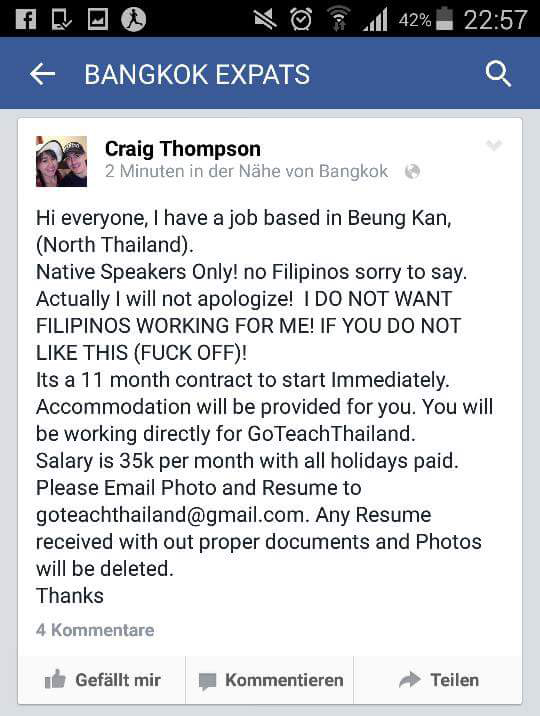 Thompson who was advertising for Go Teach Thailand  then went on to compare Asian skin, particularly that of a Filipino, to Caucasian's.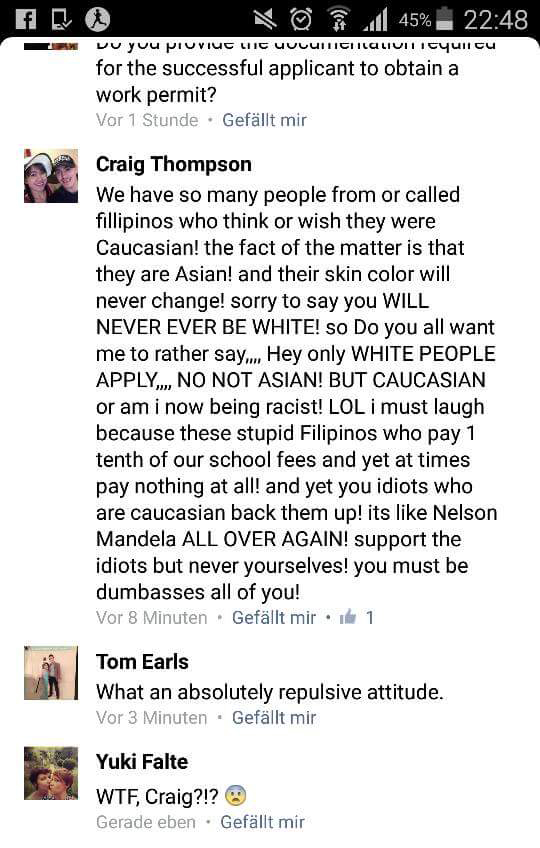 "We have so many people from or called filipinos who think or wish they were Caucasian! the fact of the matter is that they are Asian! and their skin color will never change! sorry to say you WILL NEVER BE WHITE!", Thompson said in his comments in the thread.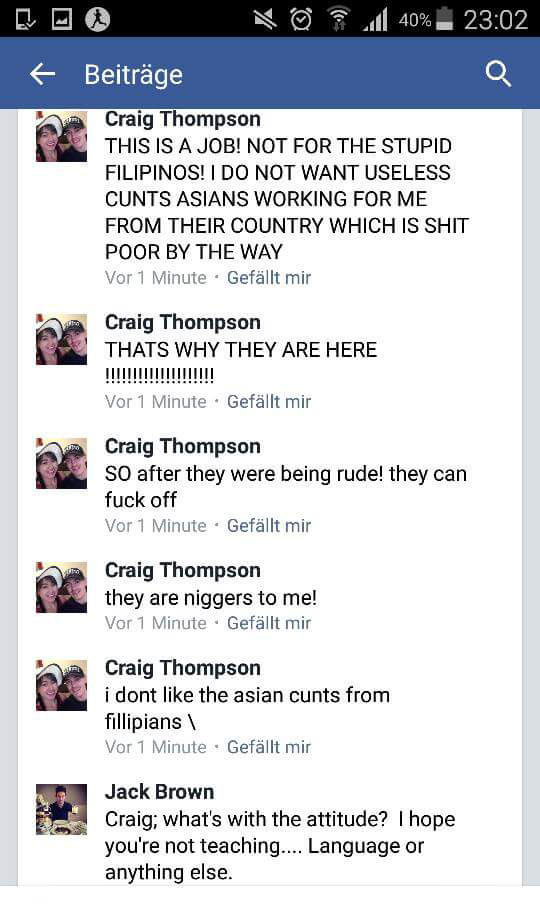 Not contented by his rants, Thompson also called Filipinos names such as "STUPID FILIPINOS… AND USELESS CUNTS ASIAN". He also said he considers Filipinos the same as "niggers". "Nigger" is an offensive slang word for black people.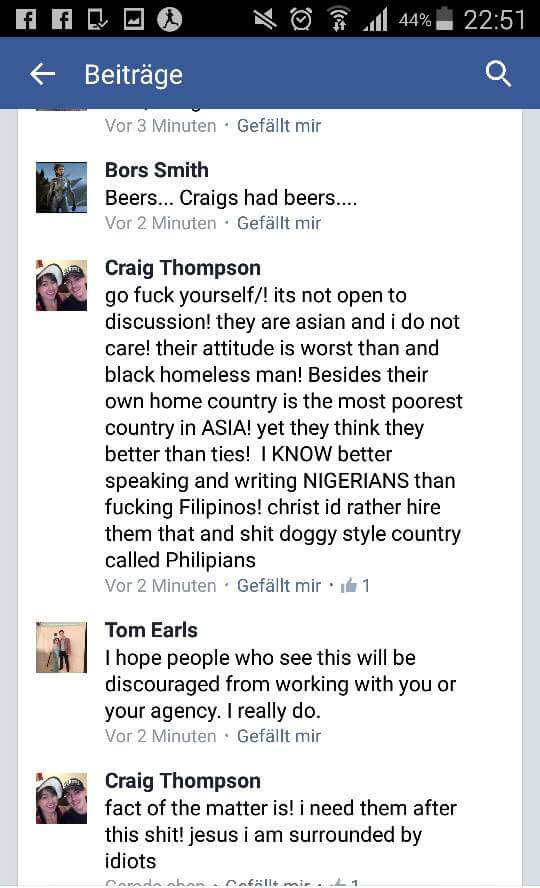 Just moments after the post, comments flooded Thompson's ad mostly admonishing him while others defending Filipinos from his rants.
Jerald Cool Pianist Choi, a Facebook user, commented this "I am not a Filipino, but somehow I feel offended… I understand his original post and its intentions, but his comments is just plain rude and offensive… Aren't educators supposed to be able to think rationally and to use words appropriately?"

Iwona F-el had to say this "I can't believe it! Is he a teacher? A person hiring TEACHERS?! With this attitude and language?? Shame!"

Others also posted some encouraging words to Filipinos. The ad has since been deleted but remains a hot topic in the group as of posting time since many had shared the racist ad in different Facebook groups like wildfire.
The Filipino community in Bangkok which is mostly comprised of teachers also rallied together to condemn what they labeled as below the belt remarks against Filipinos. They responded with strongly-worded comments on social media.
On the other hand, some commenters urged Filipinos to fight back when their rights are being stomped on.
"At some point you need to stand your ground and show others what you are really capable of. We are now in the 21st century and racism has no place in this world anymore," said another commenter.
Meanwhile, other expats also posted negative reviews on Go Teach English TEFL and Go Teach English Facebook page where Craig Thompson is supposedly working. Most of the reviews condemned the racist remarks and gave warning to other applicants, both NES (Native English Speakers) and non-NES, not to apply. The reviews, which were more than 300 in just 12 hours, prompted the owner to deactivate the page on Friday morning.

Another page Craig Thompson is managing, Study Inc., was not also spared.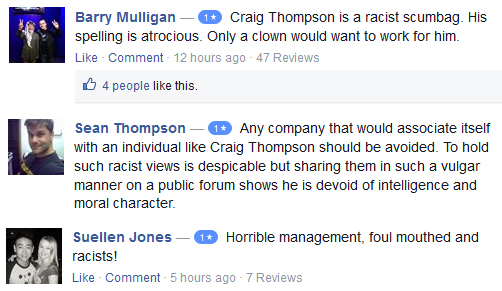 Despite this, Filipinos in Thailand are grateful to other foreigners for defending them from racist attacks such as this.