UPDATED (May 17, 2015)
With the hope of clearing his name from the racist remarks posted on social media, Craig Thompson finally broke his silence and issued a letter of apology addressed to the Filipino community on Saturday night.
In a response to PinoyThaiyo through his personal Facebook account, Thompson denied any knowledge about the racist ad discriminating Filipinos. He stressed that it was not him who posted those bigotry and disparaging remarks on BANGKOK EXPATS Facebook group.
"Hi Jezreel, Yes it was not me posting these comments! I have tried to explain but NO ONE is listening!"
On Thursday evening, aghast expats of different nationalities came to the defense of Filipino teacher applicants in Thailand following a racist advertisement posted on social media.
However, Thompson denied any involvement to the said advertisement saying that his mobile phone and wallet were actually stolen last Thursday evening when he went out together with his friends and fiancee.
"This is what happened. I was out with my friends and my fiance on Thursday evening. We had a couple of drinks and we left to go out side. I smoke so we went and when we got back the group of people sitting next to us had already left."
Thompson added that he already reported the incident to the police. However, when PinoyThaiyo asked about the police report, he did not give any answer as of the writing of this post.
"I reported this to the police and left it as it was and tried to enjoy the rest of our night together."
He also shrugged off insinuations that he is a racist by saying he is engaged to an Asian woman. According to Thompson, he is about to marry his Thai fiancee. Most of the comments tagged him "racist" and many left negative reviews to his Facebook pages (Go Teach Thailand TEFL and Study Inc.). He further explained that he set up his business to help other people and not to bring anyone down.
"People are calling me racist.! How is this even possible if my fiance is Asian…. It doesnt even make sense! I started this business to help people, I did not do this business to run people down! that certainly would not be good for business…."
Thompson also revealed how he fears for his and his family's lives as he already received 280 death threats since the post became a trending topic on social media. He retorted how he sent numerous messages saying sorry and explaining himself but nobody listened to him. He was even blocked to different Facebook groups.
"Its not fare and its cruel! Why would i as a person say such cruel and harsh things! I have gotten over 280 death threats from this!"
He also appealed to netizens to stop posting and sharing his pictures online as it has already put his entire family at risk.
"Please remember that myself and my family are walking the streets with people who don't know the full facts. People have posted my face and my fiances face all over the net, and this has put both me and my family at risk."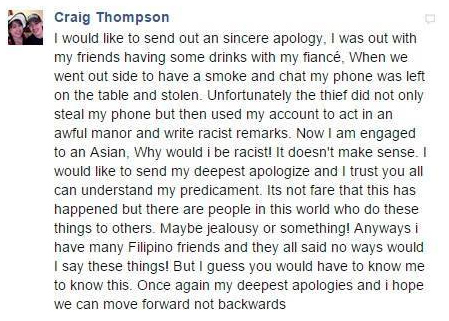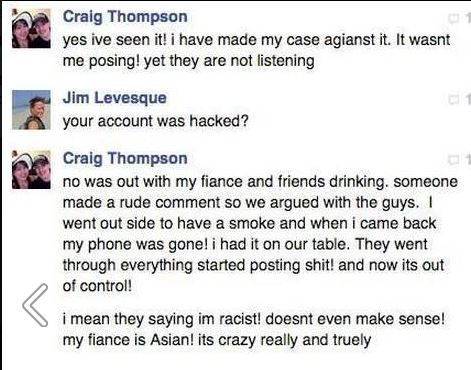 Below is the letter of apology which Thompson sent through PinoyThaiyo.
I would like to send my deepest apology to the Filipino community. These posts were not made by myself at all and i feel deeply that this has happened to you and me. These racist comments should not be tolerated. I myself have a fiance that is Thai, So I know i am not racist. Be that as it may, I still feel that those posts were not acceptable. I have many Filipino friends and everyone knows me, that I am a warm and a honest person. I do feel this was act against me, maybe even someone wanted this to happen and maliciously attacked me in this manner. I truly hope you all can understand and accept my deepest apologies.
With all of this Myself and my family have been recieving death threats from readers and by sharing the posts I feel I have been unfairly judged without the facts. The fact is nobody has contacted me to ask why you posted these things, but instead they just accepted these things as facts. I'm not asking for special treatment, but only to be judged by the full facts. Not just one sided.
Please remember that myself and my family are walking the streets with people who don't know the full facts. People have posted my face and my fiances face all over the net, and this has put both me and my family at risk.
Again I would like to send out my deepest appologizes. I hope you all can understand where I am coming from and that I understand how you all feel.
Thank you for taking the time to read my side of the story. God Bless
Kind Regards
Craig Thompson