The Malacañang Palace conveyed its birthday greetings to the Chief Executive through the Philippine News Agency as President Rodrigo Duterte celebrates his 74th birthday today. The Palace wishes the President a "sound mind" and a "sound body" to help him finish the goals he has set for the country.
"Destiny designed your name: Rodrigo Roa Duterte, 74 years ago on this day, to lead that we may follow and to follow that we may live, your noble cause within our lives. Happy birthday, President Duterte!," Secretary Martin Andanar of the Presidential Communications said on his greeting to the President.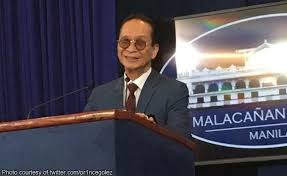 Presidential Spokesperson Sal Panelo said on Wednesday, "As Mayor Duterte celebrates his 74th birthday, we pray the Almighty to continue giving him a sound mind and a healthy body, that he may finish the goals he had set for the betterment of the country and people that he loved so well towards a future of progress and prosperity."
Panelo referring to President Duterte's humble start as a mayor said, "From a local public servant, he had evolved to be a force with national constituency catapulting him to the zenith of political power as the Chief Executive and Head of State,"
He also praised the President for  "relentlessly and tirelessly performing his constitutional duty to serve and protect the people."
"We are certainly blessed and privileged to have someone as dedicated as President Duterte as the captain of our ship steering our flag carrier safely to a land, he vowed to be free from drugs and crimes where each Filipino will enjoy a comfortable life," the Spokesperson added.
Panelo confirmed that the President will spend his birthday quietly with his family and loved ones in his hometown Davao City.
"The presidency has not changed his simple lifestyle, no frills but certainly plenty of thrills," Panelo added.