The Comedy Club Bangkok, the city's only dedicated English language comedy venue, has had some big comedians this year, Tom Rhodes, Gina Yashere, Ari Shaffir, as well as many others.
Their latest headliner, comic Joey Medina who's coming in November 27th, isn't a newcomer to Bangkok. He performed here last time in 2012 while touring with the 'almost famous' comedian Russell Peters. He is one of the 'Original Latin Kings of Comedy', the biggest selling Latino stand-up comedy DVD of all time, and has made over 50 TV appearances. The Club's 'Stand-up Creative Director' Chris Wegoda sat down with Joey to find out more about the comedian that Russell Peters says is one of the funniest guys he knows.
Chris: So Joey, hello! This isn't your first time to Bangkok, you toured with Russell Peters back in 2012, how was that show and what did you make of Bangkok generally?
Joey: The first time in Bangkok was amazing. All I knew about Thailand was what I learned from the movie Hangover 2. So I was pretty disappointed when I couldn't find a drug dealing monkey. The show with Russell was great. It was a sold out show and the crowd was awesome. Some of the nicest people I've known, I met in Thailand. This time around I will do more traveling in Thailand so I can experience the culture more. Also the women are gorgeous. You never know, I just may meet the future Mrs. Medina while I'm there.
Chris: How would you describe your own comedy, how did you get into it?
Joey: I'm very observational. I think those are the best type of comedians. Chris Rock, Russell Peters are all observational as well. I like to take reality and exaggerate it a bit. Before comedy I was a professional boxer and a police officer. But I always had a great sense of humor, so comedy was perfect. But to answer your question, one day I hit rock bottom and I went to a comedy club to cheer myself up. At that moment I realized I had nothing else to lose and I could start my life all over again. So that's what I did. I decided to spend the rest of my life making myself and other people laugh.
Chris: How did your life/comedy career change after 'The Original Latin Kings of Comedy'?
Joey: After the Latin Kings of Comedy. The bar was set very high. And I knew this would happen. It's just like boxing. Once you win a title, things are different. People expect more from you and expect you to be better than you ever were. I started writing more and headlining theaters and casinos around the US. But the best part was getting recognized more than before.
Chris: Any last words for your fans in Bangkok?
Joey: Just want to say. I'm so happy to be returning to Bangkok, and I invite everyone to come out to the show and let's share some laughs together. See you there. Follow me on Instagram and Twitter at @JoeyMedinaComic and let's keep in touch.
Chris: Thanks we look forward to the show!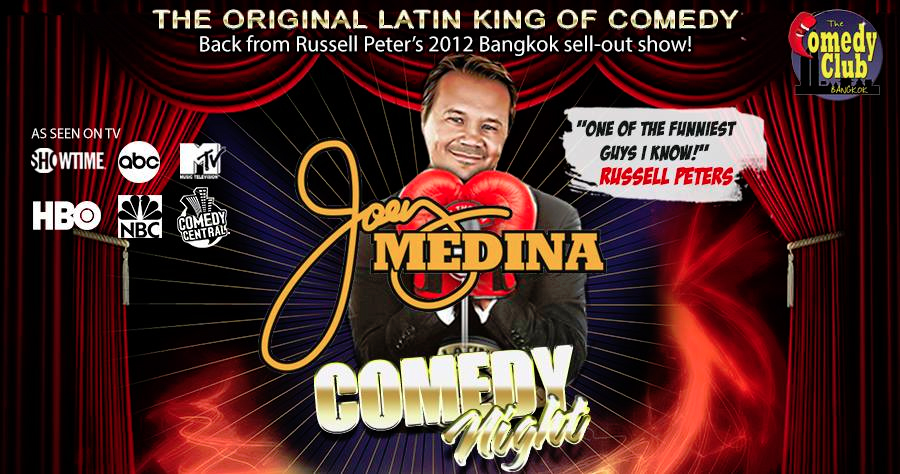 Joey Medina will be performing with support from American comedian Drew Marks and local guests at The Comedy Club Bangkok above The Royal Oak Pub, Sukhumvit Soi 33/1 on Friday November 27th at 8pm. Tickets, which include a drink, cost B500 in advance (until 5pm) or B750 at the door.

For more info visit facebook.com/comedyclubbangkok or www.comedyclubbangkok.com.

[mashshare]