This May, Friday the 13th, Bangkok Hilarious Comedy Club will bring big laughter to Pattaya, Thailand with America's leading comedian Paul Ogata and Europe's funnyman Aidan Killian performing back-to- back. Kick off the weekend right with a must see performances that you wouldn't want to miss.
Headliner, Paul Ogata, as what began as a popular radio personality from the U.S, into immediate- gained momentum into the limelight of worldwide broadcast through Comedy Central Live, Showtime "Pacific Rim Comedy", and the Late Late show. His racy wit and cultured humor has gathered fans internationally. Paired with comedian Aidan Killian, who has been noted as the new Tommy Tiernan crossed Russell Brand. UK reviews stated, "Irish Mark Thomas, without the coziness." This event has been reviewed as a "Must-See" and "You get your bang for your buck." by critics and audiences throughout the globe.
These two ballbusting performers, along with local acts, will ensure a fun filled evening that will keep you laughing with an unforgettable experience, with tickets only 500 baht per person, which includes two free drinks, Lion Pub Pattaya brings you Bangkok Hilarious Entertainment.
Reserve this night and purchase tickets today by contacting Lion's Pub Pattaya.
After his Pattaya gig, Paul will bring his brand of wit and humor in Bangkok for the first time at Novotel Siam Hotel, Saturday, May 14. Tickets available at 300 baht advanced 500 baht at the door.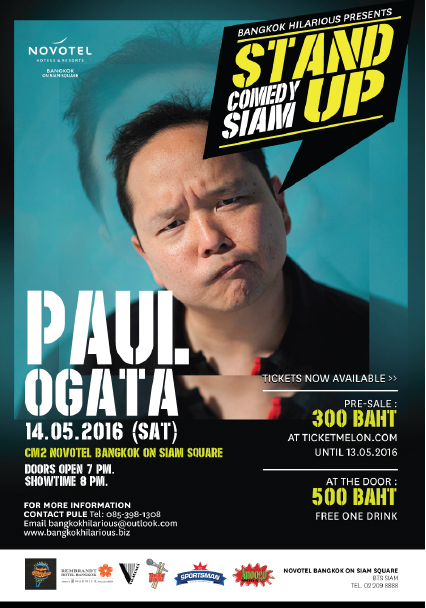 About Bangkok Hilarious Comedy Club

Founded in 2013, Bangkok Hilarious Comedy Club has become the longest running comedy collective/ taken stand up to the 4 corners of the big mango and pioneered Thailand's first annual international comedy competition. They host free entry open mic shows on 1st and 3rd Thursdays at Sportsman and monthly showcases with internationally recognized headliners throughout Thailand. The group is responsible for putting Bangkok as a go-to city for classy comedy act with notable comedians such as Jim Brewsky, Martin Mor, Andrew Stanley and more to come. Bangkok Hilarious. We Laugh You Long Time.

Click here for Bangkok's show.

[mashshare]