Another award-winning Filipino film will be screened at the Foreign Correspondents Club of Thailand (FCCT) on May 30, 2016 at Penthouse, Maneeya Center Building in Bangkok. Film screening will start at 7:30 pm.
"Thy Womb" or "Sinapupunan" in Tagalog is a 100 minute long film starring Philippine superstar Nora Aunor and is directed by world-renown director Brillante Mendoza. Mendoza's film "Foster Child" was also screened at FCCT in October last year.
The said screening is organized by Centre Stage Productions and is supported by the Philippine Embassy in Thailand. Her Excellency Ambassador Mary Jo A. Bernardo-Aragon along with other Embassy officials will grace the event.
The screening is free for FCCT members while non-members will have to pay 150 baht. Philippine famous movie snack, Chef Tony's gourmet popcorn and San Miguel beer will be served for only 100 baht.
Foreign Correspondents' Club of Thailand is located at Penthouse, Maneeya Center Building, 518/5 Ploenchit Road, Patumwan, Bangkok 10330. It is connected to the BTS Skytrain Chitlom station.
'Thy Womb' in a nutshell (from FCCT website)
Thy Womb is a soft, simple domestic tale of a fishing village peopled by the Badjao Muslim community, rich in rituals and traditions, surrounded by the lush scenic beauty of sleepy Tawi Tawi island, located in the southern part of the country. It is not always a perfect haven, and there are moments of gunshots and violence in the film. But the villagers simply dismiss them, and continue with their languid lives.
The story centers on a midwife Shaleya who lovingly delivers many babies in the village and keeps their umbilical cords as mementoes. Unfortunately, Shaleya is infertile herself. She and her husband Bangas deeply love, care, and respect each other, and he even helps her in delivering the babies. But she feels incomplete without a child. That's when she decides to find him a new wife. As per tradition, they have to pay a high dowry, and she works hard to collect money for this. She finds him a young, attractive bride, and even dresses him up for the wedding. Bangas is happy to have the opportunity of having a child through the second wife and so, agrees to her unexpected condition.
The film's graphic childbirth sequences ( Opening and Closing scenes) created a stir when the film premiered at the Berlin Film Festival. But they are important to the story, as they present varying implications to the chief protagonist of the film. The highlight of the film is the superb performance by legendary Filipina actress Nora Aunor, often described as 'the country's national treasure.'
"Thy Womb" was screened at nearly 50 films festivals around the world, from Europe to Asia, Russia, the US, Latin America.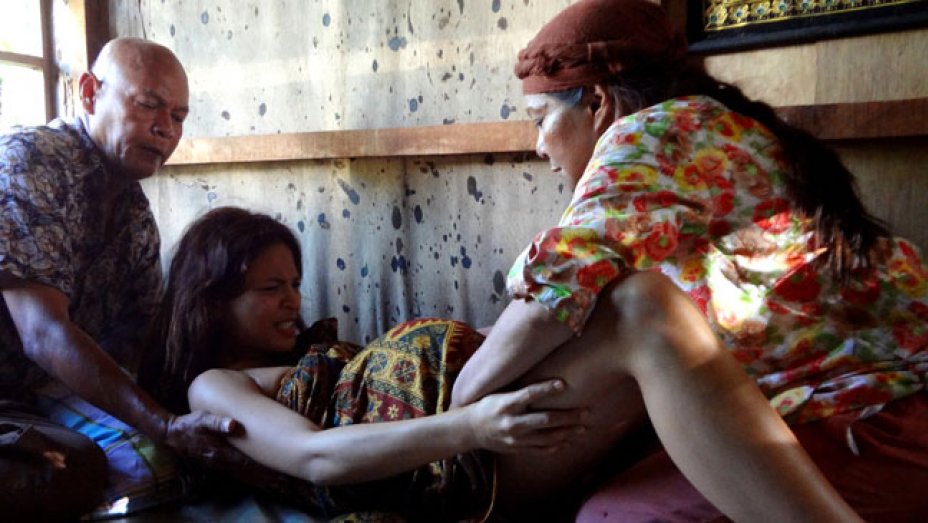 Source: bangkokpe.dfa.gov.ph

[mashshare]